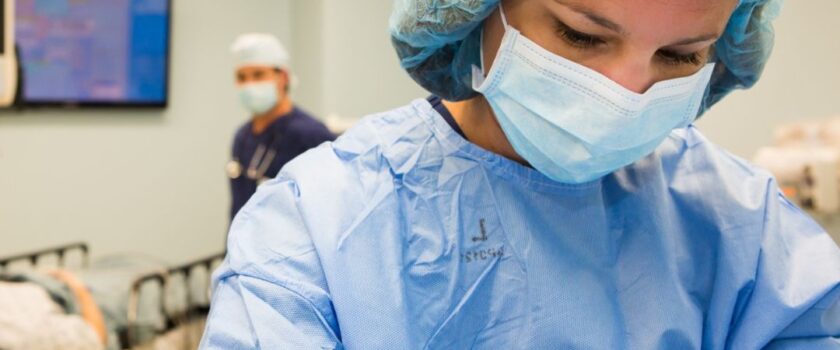 A nursing associate degree, otherwise known as Associate Degree in Nursing (ADN), is one of three ways to become a Registered nurse in the UK. The degree is relevant for people who desire to pursue a professional nursing career but lack the time or financial resources to complete a Bachelor of Science in Nursing. The degree provides opportunities to work in entry-level nursing positions. Additionally, the nursing associate degree is a pathway for licensed practical nurses (LPNs) to qualify for an RN license.
A nursing associate is a new career on the nursing team and a stand-alone role that provides a progression into graduate-level nursing. They collaborate with healthcare support professionals and registered nurses to care for patients and the general public. People in this profession can work with people of all ages in a range of health and social care settings. Nursing associates in the UK are regulated by the Nursing and Midwifery Council (NMC)
Benefits of Getting a Nursing Associate Degree
The nursing associate degree is a two to three-year study. Students or candidates enrolled in this program will participate in academic learning one day per week and work-based training for the rest of the week. Alternatively, they will work in healthcare environments such as acute, community, or mental health hospitals, including care homes or hospices. However, they will gain experience in other settings that may entail travelling to placements and working shifts.
The program entails all aspects of nursing, including caring for people with diseases like dementia, mental illness, and learning disabilities/difficulties. Below are some of the benefits of earning a Nursing Associate Degree
It provides the education and clinical training needed to sit for the required certifying exams for obtaining nursing licensing.

The ADN allows those interested in entering the nursing profession to begin working in an entry-level position in two years.

It also provides essential experience and abilities to practise in speciality areas of healthcare.
Entry Requirements for Nursing Associate Degree
To start your career as a nursing associate, you will require GCSEs in Maths and English, in grades 9 to 4 (A to C), or Functional Skills Level 2 in Maths and English.
Trainee nursing associate places are usually advertised on NHS Jobs. Degree is also available through direct application to universities. Applicants accepted onto university courses will need to fund their training. Also, note that some universities may have additional requirements.
Related Article: What is the Difference Between Nurse Practitioner and Physician Assistant
Furthermore, Nurses who have earned an ADN can pursue additional certifications in speciality areas to help scale up.
How much do nursing associates earn in the UK?
The standard working week for a nursing associate is 37.5 hours. These hours may include a mix of shifts, such as nights, early starts, evenings and weekends. Trainee nursing associates are employed on the band 3 pay system, while qualified nursing associates are employed on band 4.
The national average salary for a nursing associate is £30,747 per year. However, nursing associate salaries can vary depending on experience level and location. Entry-level positions can start at £19,402 per year, and more experienced nursing associates can make up to £48,725 per year.
Similarly, the typical NHS Nursing Associate salary is £23,646 per year. Nursing Associate salaries at NHS can range from £22,549 – £25,955 per year.
Accreditation and Registration
Are nursing associates registered?
Yes. Nursing associates are registered under the NMC. The registration and licensing allow them to work anywhere in the United Kingdom.
After attaining the relevant qualifications and meeting the NMC standards of proficiency, they can apply to join the NMC as a member and get the accreditation needed. Below are the competencies a nursing associate needs to have to be registered by NMC:
Understand and implement the principles and aims of health protection, promotion, improvement and ill health prevention when working with people

Advocate for preventative health behaviours and disseminate information that helps people make informed decisions to enhance their physical, psychological and behavioural wellness and health

Ability to comprehend and discuss how social influences, individual situations, health literacy, lifestyle choices, and behaviours affect psychological, physical and behavioural health results

Ability to explain the importance of health screening to people and identify those eligible for screening

Advocate for health by preventing ill-health through an understanding of scientific evidence for herd immunity, immunisation and vaccination

Ability to explain the principles of demography, genomics, and epidemiology and how they impact health and wellness results

Have an understanding of the causes of inequalities in health outcomes

Possess knowledge of how early childhood years and experiences can impact life choices, psychological and behavioural health and wellness

Protect health by comprehending and implementing infection, prevention and control.
Revalidation
Nursing associates, like nurses and midwives, must go through a revalidation procedure given by NMC after three years of practice. Revalidation guarantees that nursing associates follow appropriate healthcare practices in their field and build public trust in them. The NMC charges a fee for revalidation.
Job Description of a Nursing Associate
Nursing associate duties are likely to include:
Collecting data during patient examinations, such as taking blood pressure or heart rate

Undertaking clinical tasks including venepuncture and ECGs

Supporting individuals and their families and carers when faced with unwelcome news and life-changing diagnoses

Administering medications according to established protocols or guidelines

Providing emotional support and comfort to patients and families

Maintaining accurate patient records, including progress notes and discharge summaries

Performing and recording clinical observations such as blood pressure, temperature, respiration and pulse

discussing and sharing information with registered nurses on a patient's condition, behaviour, activity and responses

recognising issues relating to safeguarding vulnerable children and adults

Performing various clinical tasks such as taking patient vital signs, drawing blood, taking cultures of wounds, applying bandages, or assisting with physical therapy exercises

Instructing patients about how to manage their health conditions and treatments at home

Performing diagnostic testing, including X-rays and laboratory analysis

Preparing patients for surgery by administering anaesthesia or other medications as ordered by a physician or dentist

Providing basic nursing care such as bathing, grooming, and feeding patients who cannot perform these activities independently
Also learn about related roles: Occupational therapist, Dental assistant, Medical assistant, Child psychologist, Dental hygienist, Surgical tech, Radiology technician