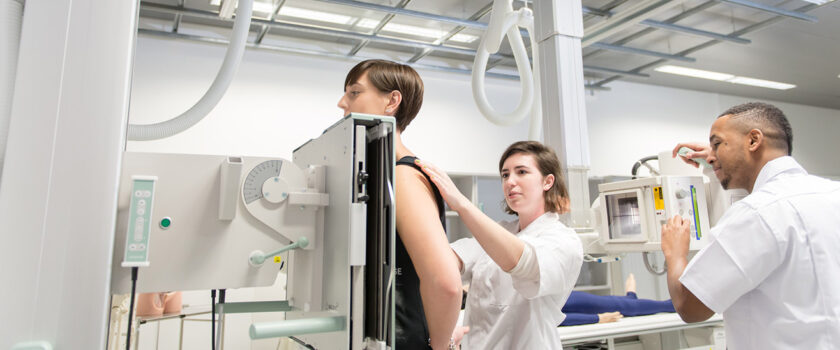 In the United States of America, the average salary of a radiology technician as of 2023 is $65,144  annually. Typically the annual average salary range may also fall between $47,810 and $95,960; this depends on the State a radiology technician is practising. Radiology technician salary also depends on many factors that include education, certifications, additional skills, speciality, geography and years of experience.
The States that pay radiology technicians the highest mean salary are California ($95,960), Hawaii ($82,990), the District of Columbia ($82,270), and Alaska ($79,330), as well as Massachusetts ($78,830).
Cities are home to many hospitals and health systems. This means that there are more positions for radiology technologists in urban areas. Urban workplaces tend to offer higher salaries for radiology technologists, and healthcare professions in general, to attract top candidates and compensate for higher costs of living.
Subsequently, some cities in the metropolitan areas also tend to pay the highest salary for the radiology technician profession in the USA. Cities that pay higher include Vallejo, San Francisco, San Jose, Stockton, as well as Santa Rosa. The salaries in the aforementioned cities can go as high as $113,130 to $$127,590. Furthermore, it is important to note that all the cities are in California.
However, if you decide to work in California, you should be prepared to accommodate the high cost of living. Currently, the cost of living in this area is 39% higher than the national average. Housing is 96% higher than the national average, while utilities are 28% higher.
Overall, radiology technician is a good well-paying job for someone who is considering a career in the medical and healthcare industry.
Average Radiology Technician Salary vs Related Health Jobs
Related health jobs earn the following in the United States of America:
A radiation Therapist's annual average salary is $86,850

A registered Nurse also earns an annual average salary is $80,010

Clinical Laboratory Technicians' annual average salary is $55,990

A veterinary Technologists annual average salary is $36,260

A surgical tech also earns an annual average salary is $51,510,
Who is a Radiology Technician?
A radiologic technician is a medical worker who works on patients with specialised imaging technology to generate diagnostic pictures of human anatomy. Radiology technicians, often known as radiographers or x-ray technicians, also take x-rays of patients for diagnostic purposes.
Because scans like MRIs can be painful, radiologic technicians may reassure patients throughout their exams.
Their responsibilities also include maintaining imaging equipment, prepping patients for examinations, and running the equipment during scans. They also follow doctors' orders and record the patient's medical information.
A radiology technician prevents patients from being exposed to unnecessary radiation. Additionally, a radiology tech performs administrative duties, such as scheduling appointments, patient instructions, film filing, and maintenance of records.
Radiology technicians work in hospitals or diagnostic imaging labs. They perform conventional 40-hour work weeks. Some companies, however, may request weekend, nighttime, or on-call hours. Radiographers can also work for more than one employer at a time.
To become a radiology technician, a person will need to have either an Associate's or bachelor's degree in radiography from a college or university that is accredited by the Joint Review Committee on Education in Radiologic Technology (JRCERT). They also have to register with the American Registry of Radiologic Technologists (ARRT) body within their State of practice. 
Certifications in Radiography in the United States are also offered by ARRT. While some states will require licensure for a Radiology Technologist who performs more advanced radiology screenings, in some other states, the licensing isn't a requirement. Furthermore, f your state does require you to be licensed, you need to complete the same requirements needed to earn certification from the American Registry of Radiologic Technologists (ARRT).
Licensure rules in the United States of America
Alabama, District of Columbia, Georgia, Missouri and North Carolina as well as the South Dakota do not licence radiology technicians. However, Georgia regulations require six hours of radiation safety education. To learn more, click here
Listed below are the states that require licencing to practice as well as the links to licensure. You will also find each state's information regarding radiologic technologist licensure, certification or recognition in the site links.
How to Become a Certified Radiology Technician
Certification is optional and can be obtained through the ARRT. The ARRT's minimum education requirement is an associate's degree from an accredited school. You will also require clinical experiences in a certain field, such as radiography, nuclear medical technology, radiation treatment, MRI, or sonography.
You will also need to pass a written test with multiple-choice questions. Your test will likely include topics such as machine operation, patient care, imaging generation, and radiology procedures. The subject of the test may also differ depending on your area of specialisation. Furthermore, if you want to keep your certification, you must take continuing education classes every two years.
Furthermore, after you earn your certification and have experience, you may be able to earn advanced certifications in MRI, mammography, bone densitometry and CT. You may also take the options of breast sonography, vascular sonography, sonography, quality management, cardiac-interventional radiography and vascular interventional radiography.