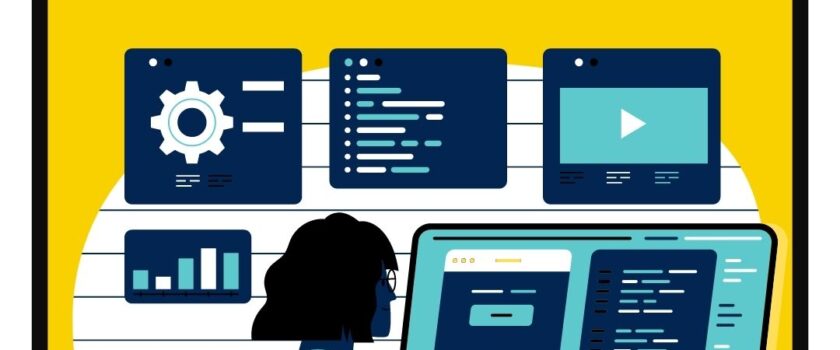 An IT Support Specialist provides technical support to businesses or consumers experiencing technical, hardware, or software issues. They support a company's internal clients and external customers via phone or web chat. They are also responsible for analysing, troubleshooting, and assessing technological issues.
Information technology(IT) is the use of computers, storage, and networking devices to create, process, store, share, and secure electronic data.
Because information technology is one of the fastest-growing sectors of the workforce, there will always be a high demand for IT support professionals, as they are among the most influential people in the IT industry.
An IT support specialist's daily tasks include assisting users in troubleshooting common computer issues or concerns. They respond to inquiries and complaints about information technology services, repairs, and support.
Furthermore, they may forward user messages or phone calls to the appropriate IT personnel while tracking the system to manage new tickets. IT support specialists make suggestions to improve computer systems.
While most client complaints are handled over the phone or via email by IT support professional, other issues are handled on-site if, for example, it involves upgrading, cleaning or repairing a computer software or hardware.
IT support specialists ask end-users and clients specific questions to understand their complaints. They also must possess strong good listening skills, patience and excellent communicating skills, especially to handle clients who may not be tech-savvy.
Related Article: A deep dive into IT career path
What is it like to work as an IT Support Specialist?
A technical support specialist may work in a help-desk environment or a company's IT department.
They could work in a variety of industries, such as computer systems, telecommunications, educational services, and finance. While full-time schedules are common with a typical nine-to-five work hour, IT support personnel, for example, may work nights, weekends, and holidays to handle network or user problems that arise outside of typical business hours or to assist clients from other countries.
Furthermore, while some IT support specialists work from home, others may be required to travel to a client's location to troubleshoot and resolve issues.
Skills required of an IT Support Specialist
Recruiters look out for many things in an IT support specialist. IT support specialists must have the following core skills:
Technical Skills: Having technical knowledge of computer software and hardware is required. Support specialists must be able to identify and fix various hardware, software, and network problems akin to solving a complex puzzle.
Analytical Skills: Many of the challenges you deal with are very technical. It is your responsibility to examine a problem and determine the best remedy. 
Problem-solving skills: Troubleshooting is an important element of IT assistance. IT support technicians must be able to identify basic and complicated computer problems while applying their previous expertise to new and unique situations.
Communication Skills: Much of this role will be spent communicating with customers or in-house users. They need to be comfortable and well-spoken on the phone or via text and emails to give written instructions and advice. As such, the support specialist must possess highly polished communication and interpersonal skills that allow them to communicate with a wide range of people, from upper-level executives to casual computer users.
Organisation Skills: IT professionals are frequently required to manage many activities at the same time. Having good organisational abilities can also help maintain track of all ticket requests.
Other skills include:
Patience

Creative Thinking

High attention to detail

Ability to learn and retain new information

Expert troubleshooter

Active listening skills

Excellent mathematical skills

Expertise with a particular related software or computer device

Familiarity with multiple operating systems, programming languages, and troubleshooting techniques.
How to Become an IT Support Specialist
While some employers may not require a college degree, obtaining a bachelor's or associate's degree or a diploma in computer science or a similar field of study will help you distinctively. Candidates who do not have a college degree must have IT or comparable experience. For persons with no experience, industry certification may also qualify as a qualification.
On the other hand, IT support personnel must stay current on IT technologies and best practices. Furthermore, many professionals progress to positions in information technology, such as software developers, network systems administrators, or managerial roles.
To become advanced in the IT support industry, an IT support specialist must earn significant certifications along with industry experience. Additionally, because companies may hire IT Support Specialists to provide service in an area of expertise, this certification helps prove to employers that a person has a specialised set of skills.
Consider earning one of the following certifications:
Apple Certified Support Professional (ACSP)
If you intend to work with macOS, you need to obtain this certification. It demonstrates that you have expert-level expertise working with this system and have all of the necessary support resources.
Microsoft Technology Professional (MTA)
Microsoft provides a variety of certifications in areas like database basics, security fundamentals, Windows operating fundamentals, and other topics that can help you progress in your career. Additionally, it is advised that you determine which MTA certification will help you in your area of expertise.
CompTIA A+ Certification
This CompTIA certification demonstrates to employers that you have a strong foundation in hardware, technical assistance, and troubleshooting. operating processes, mobile devices, and security are also taught.
Interview Pointers for IT Support Specialists
Before your interview, consider the following instances of personal experience that are relevant to the role:
Explain how you came up with a novel solution to a technological difficulty. What motivated your solution?

Discuss an instance when you converted a challenge into a learning opportunity. What did you discover? Has this unplanned learning been beneficial to you in the long run?

Describe a recent project you worked on? What were your most important responsibilities? How did you deal with the difficulties?

Discuss an instance when you had to assist someone who couldn't follow directions. So, what did you do to fix their problems?

Discuss how you remain current on the latest technological developments. What forthcoming breakthroughs excite you the most?
Prepare to answer questions such as:
What programming languages are you familiar with?
Do you have any technical certifications?
What has been your most difficult challenge as an IT professional? How did you get through it?
Having trouble finding a job in the IT support industry or tech field? Head on to vizajobs