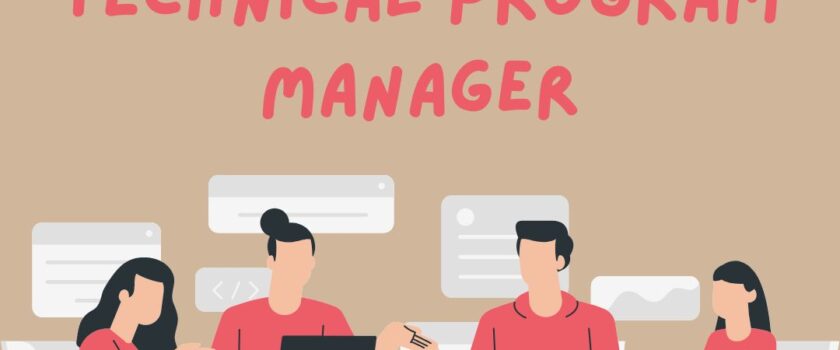 Most technical program managers (or TPMs) begin their careers as software engineers until they reach a crossroads where they choose whether to deal with people or code.
People who enjoy working with code may continue to work as software engineers or become software architects as part of their career progression. Those who prefer to work with people become technical program managers.
Who are the technical program managers?
Technical program managers (TPMs) are professionals who manage one or many projects for a company. In addition, they oversee all aspects of a project or program from creation and initiation to completion. They also define project requirements to evaluate the finished product.
The product manager, project manager, and program manager are all jobs that are related to the TPMS. Despite their similarities, these professions have distinct duties that set them apart.
Let's clarify some of these roles and their duties.
Project Manager:
While a technical program manager may oversee an entire company's projects, a project manager oversees only one project for a specific product at a time. They are also in charge of planning, coordinating, and guiding the execution of a given project. They also ensure its timely completion within budget and scope.
SEE: What Do Project Managers Do
Product Manager:
Product managers oversee a specific product or feature. They are in charge of performing consumer research, determining market fit for a product and its characteristics, including leading the vision.
Program Manager: 
A program manager manages a family of products. They focus on synergies among products, including products that may or may not be internal.
TPM focuses on the work of program managers from a technical standpoint, often playing a more hands-on role than traditional program managers.
In some organisations, the TPM manages all three professions listed above.
Responsibilities of the Technical Program Manager
TPMs are in charge of launching programs or projects, seeing them through to completion, and offering assistance should problems arise.

They handle non-functional elements of software delivery, such as application telemetry, performance, reliability, resilience, security, and compliance.

TPMs establish best practices, standardised frameworks and tools across programs and projects.

They create and sign-off on roadmaps of programs or projects planned for an organisation or client.

The TPM of a company generates different reports for different stakeholders in an organisation by providing high-level schedule and budget reports.

They identify risks and elements of a mitigation strategy to keep the project on pace.

TPMs may also assist in establishing technologies, tools, and procedures.

They identify and resolve destructive disputes using various conflict resolution methods.
 How TPM Collaborates With Other Professions
The most significant distinction between TPMs and other project management-related professions is their ability to function independently of engineers in order to allow programmers to code.
While other project management-related responsibilities may lack technical depth, TPM can provide enough technical depth and awareness to help manage engineers' and developers' time.
Related Article: Big tech – Google product manager salary
TPMs work closely with various professionals in the tech industry, some of which are project management-related. For example, TPMs must work closely with the Product Manager on tasks such as:
Backlogs

Prioritisation

Sprint planning

Release planning

Launch and post-launch activities
In addition, they must work with members of the engineering team, who are responsible for the architecture, development, testing, deployment and release of products.
They may also work with stakeholders and the leadership management team of a company as they generate reports for them.
An organisation may have the need for cross-functional collaboration; in this instance, the TPM becomes the orchestrator and hence must collaborate with other peer teams that have contributed to or impacted by the outcomes of the program/project. Examples of such a team are:
UI/UX Design team

Sales team

Marketing team

Customer Success team

Operations team

Legal team
How to Become a Technical Program Manager
An entry-level role as a Technical Program Manager requires a combination of experience and education. Employers will look for a Technical Program Manager with strong IT abilities, including management experience.
As with many other tech roles, TPM roles require at least a bachelor's degree in business administration, business management, information technology, or computer science. However, other employers may hire candidates with master's degrees. Furthermore, more companies are likely to consider candidates with certain certifications, such as:
Certified Project Manager(CPM)

Technical Program Manager Certification

 Project Management Professional (PMP)

Certified Scrum Master (CSM)

Certified Manager Certification (CM)

Master Project Manager (MPM)

Certified Software Manager (CSM)

Certified Scrum Product Owner (CSPO)
According to a Bureau of Labor Statistics study, the percentage of employees recruited with an associate's degree is 7%. However, they will need a bachelor's or master's degree to advance to a senior level over the course of their career.
TPM needs to be proficient in a variety of programming languages, such as JavaScript, C++, Python and C#. They will also need to gain experience by working as software engineers or system administrators for five to nine years before progressing to the technical project management position.
While a technical background is required for this role, leadership experience is also required. An alternative to gaining leadership experience is acquiring the right management skills, such as a Certified Business Analysis Professional (CBAP) certification.
Technical Program Manager Salary
According to Indeed, the average annual income for a technical program manager ranges from $115,403 to $122,246. However, your salary may differ depending on your employer, region, education, and experience.
Additionally, established technology companies or the big 500 companies are likely to pay more than a startup and higher than the national average.
In the same way, salaries vary across cities in the US. In some cities, the average salaries are higher than the national average. Examples of such cities are:
Redmond, WA – $194,729

Mountain View, CA – $165,432

Santa Clara, CA – $164,765

Atlanta, GA – $156,763

Cupertino, CA – $145,688

Dallas, TX – $127,420

Seattle, WA – $127,019

Houston, TX – $126,899

Bellevue, WA – $122,482
Work Scope for Technical Program Managers
TPM can explore a variety of work schedule settings. They can either work as freelancers or remotely. They can also explore the hybrid framework aside from the conventional on-site frame of work. Most TPM jobs are usually 9–5 and may sometimes require weekends, depending on the company.
Are you looking to work as a freelancer or remotely? You are in the right place. At vizajobs, we find you remote countries across the US, UK, Canada and Australia. Click here to get started.