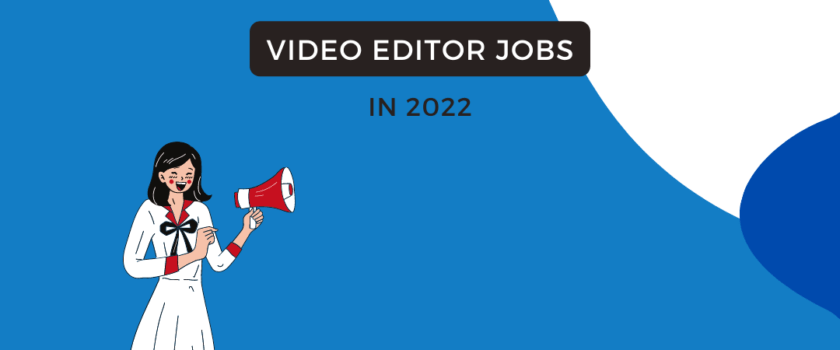 In today's digital age, video editors are becoming more valuable as the demand for video editor jobs increases. In most parts of the internet, video material is now replacing blogs and written pieces from the past. Likewise, the continual need for more specialists who know their way around video editing and other visual tools is a result of this exponential rise in advanced media. Hence, earning to edit video is a terrific method to spend your time if you have a strong enthusiasm for films and other video content.
Who is a Video Editor?
A Video Editor is responsible for transforming raw material shot by a film team and director into the final output. This entails following a plan, script, or shot list and putting the footage together into a single movie or film. Many camera angles and takes are frequently recorded in video and film work. The Video editor's job is to go through all of the footage and generate the greatest output possible by editing and connecting clips, adding sound effects and graphics, and fine-tuning the finished video or film.
Careers in Video Editing
Average annual salary: $67,700
This is one of the most popular video editor jobs in demand. An animator creates moving visuals and tales in the form of cartoons using various tools and techniques. These graphics could be created by a variety of animation video editors for a variety of projects such as movies, television shows, video games, or advertising. Characters, background design, and setting are some of the things they're usually in charge of. Many animators have outstanding technical talents, as they frequently use motion capture data and video animation technologies to generate these captivating graphics. The majority of these pros sketch these images and then attempt to record them as an animated image utilizing their software system.
Average annual salary: $52,300
Making things happen in real time is a big part of what happens in a TV studio. Switching between cameras, overlay graphics, and other visuals that assist live broadcast audiences enjoy the show are the focus of the TV studio editor. Many television studio editors work for larger or local production businesses, assembling material for a range of television forms such as scripted comedies, documentaries, training films, or music videos. They frequently add sound effects, music, and other special effects to this video footage to make it more exciting for spectators to watch. Because most episodes run near the end of each season, television studio editors are frequently under pressure to meet tight deadlines and provide error-free final products. During filming, some TV editors assist in overseeing the design, camera angles, lighting, and sound for shows to ensure that they match their edited footage.
Average annual salary: $69,300
Film editors usually work on set for feature films, short films, or indie films. They usually work closely with the director, cinematographer, and sound editors to piece together sequences that fulfill their needs and portray the story they want to tell. Many film editors view raw material for hours before picking which pieces to utilize in the finished movie. They may also read the screenplay and consult with the director to ensure that the final footage is consistent with the tale. Before editing a scene, some film editors visit the set during production to learn about the sequence's objective.
Average annual salary: $59,200
Many events, especially weddings, are recorded on video for the benefit of the clients. This work is plentiful, and it's a popular way to get your foot in the door of video editing.
Average annual salary: $45,500
Works on short-form videos that will be shared on the internet usually for marketing purposes. They work with a wide range of clients and subject matters, which can change from week to week.
The Demand for Video Editor Jobs
The emergence of the internet has benefited video editors considerably. Because so many websites now rely on video content to stay alive, fresh video editor jobs are continually available. Your alternatives, though, aren't limited to an online newspaper. Thousands of creators use video content providers like YouTube, and some of them may want to hire their own editor. Many content creators are experts in their field but have no knowledge of motion graphics or video editing. This is where you enter the picture.
You'll obtain essential experience that you may include in your CV or portfolio once you've landed your first video editing job. This experience will make it much easier for you to land the several roles accessible to you. You can work for any publication that needs regular video material. It's impossible to list all of the potential employers you'll meet. This only goes to show how many options are available to you if you pursue a career in video editing.
The tendency for most tasks to become repetitive over time is a prevalent issue. Finding a job that offers a bit of variety is always a plus. Video editing and motion graphics provide a wealth of extra job opportunities and technological advancements. Video editors can move from one profession in the entertainment sector to another with ease. There are other alternatives in other media fields as well. Schools, news stations, and a variety of small companies can benefit from video editing. You can learn new strategies to flourish in your current role in addition to all of these lateral moves. Increasing your value by learning new talents is a great strategy to advance in the media.
In Conclusion:
Aspiring video editors have a bright future ahead of them, as the video and streaming services that dominate the entertainment business continue to rise at a rapid pace. A competent video editor is behind every production you see on Netflix and YouTube. This means that if you get the necessary training and abilities, you will never be out of work. Attending a formal school program is the best approach to acquire the necessary skill set. Industry professionals create the curriculum from the ground up, knowing exactly what your future employers want to see. Given the importance of these programs, formal education is unquestionably a tool you should employ to kickstart your career.