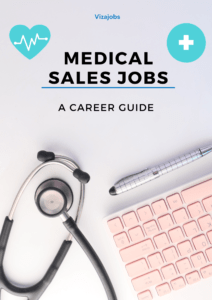 The healthcare sector exists to address the society's health demands. Due to a mostly privatised system, the United States spends twice as much on healthcare as other countries. Medical sales jobs are plentiful, and medical sales professionals are in high demand. These sales people (also known as medical reps) are frequently responsible for selling high-priced equipment and resources, so there's plenty of room for advancement.
While the COVID-19 outbreak has had a substantial impact on the sector, it has remained stable overall. Some businesses have slowed, but others are expanding at a faster rate, which means medical and pharmaceutical sales people may now find employment faster than ever before.
A medical sales professional may expect to make an average base income of $95K, according to MedReps. When you factor in the average bonus/commission of $61K, it's evident that working as a medical sales person in a developing market may pay off financially.
If you're thinking about a career in medical sales, this article can help you figure out if it's the appropriate fit for you and, if so, how to stand out from the crowd.
Understanding Medical Sales Jobs
A medical sales representative works with doctors, clinics, facilities, and hospitals to sell medical products. Contacting new consumers, explaining the product's characteristics and benefits, addressing queries about the product, and negotiating the final purchase are all part of the work.
Medical sales jobs often require the following:
Identify and qualify decision-makers and prospects. Who makes up the purchasing committee? Are you interacting with and persuading all veto-wielding individuals? Administrators, doctors, nurses, and therapists might all be on the line. They'll each have their own set of concerns and inquiries.

Knowledge about the product is essential. You'll have to give formal and casual demonstrations of your goods. Know your product, read the studies, and be prepared to supply any more research that potential customers may require.

Meetings, conferences, and trade exhibits all require presentation abilities. In every situation, provide useful knowledge and demonstrate that you understand their problems and needs.

Negotiate the terms of the sale deal. The era of value-added care has arrived. How does your product and contract provide value to the buyer's and their patients' lives?

Identify and qualify decision-makers and prospects. Who makes up the purchasing committee? Are you interacting with and persuading all veto-wielding individuals? Administrators, doctors, nurses, and therapists might all be on the line. They'll each have their own set of concerns and inquiries.

Understand the HIPAA regulations as they pertain to business associates. It's possible that you'll come into contact with Protected Health Information (PHI). Demonstrate that you're a trustworthy professional who won't put your clients at risk of HIPAA violations.

Develop and maintain relationships with current and prospective consumers. Make yourself a valuable asset. Keeping in touch by providing helpful information, such as fresh studies or relevant news stories, is a terrific method to do so.
Medical Sales Jobs and Opportunities
Average annual salary: $87,600
As healthcare providers cannot be experts on every new drug on the market, they must trust the knowledge of medical sales representatives. You must be well-versed in new product advancements, such as more study on side effects and new findings on the ailments that your product cures, as well as differences between your drug and competitors'.
Average annual salary: $95,000
Considering medical equipment deals with more broad supplies, an in-depth study of biology and other life sciences is not required. Although the intended use of each product must be explained, the intricacies are often easier to grasp than in other areas, such as pharmaceutical sales.
These salespeople need to be the most adaptive. You must alter your sales pitches while selling a range of products to a variety of clientele. Furthermore, you must appeal to a variety of audiences while remaining authentic. Repeating the same script on the product to everyone you speak with isn't going to help you close medical equipment deals.
Average annual salary: $95,000
A medical or technical background would be advantageous for reps in this position. Customers will lose faith in the product fast if the salesperson is unable to answer their queries or keep up with their grasp of how to operate the equipment.
Average annual salary: $155,000
Biotechnology salespeople must have a solid understanding of the life sciences. That training is required in order to completely comprehend what you're selling, how it works, and how it can benefit clients and their patients.
These salespeople must also be the patient ones. Because no one can guarantee that their consumers will have a thorough understanding of biotechnology, they must be prepared to answer any questions thoroughly but in a way that everyone can understand, and to follow up fast with answers to any questions they can't answer right away.
Average annual salary: $89,300
In this sector, salespeople must be able to think quickly on their feet. If clients insist on a product you're attempting to sell that won't benefit them right now, come up with new methods they can use that they haven't considered.
These reps must maintain their composure while not pushing themselves too hard. Individuals that are excessively harsh may lose consumers as a result of all the necessary negotiations. Giving up too much ground, on the other hand, could backfire. Successful salespeople strike a balance and avoid being a people pleaser.
Success Skills for Medical Sales  Jobs
To succeed in medical sales, you'll need a certain set of talents. These abilities are divided into three categories. Foundational Skills, to be precise.
Skills that can be transferred and
Industry-Specific competencies
Let's look at the three sorts of skills and some examples of each.
The position necessitates the acquisition of fundamental competencies. These abilities are not unique to the medical field, but they are important for medical sales success.
The following are some examples of Foundation Skills:
Medical sales representatives must have new business development and prospecting skills, presentation skills that express features and benefits, and a self-discipline aptitude to remain on top of current technology and research in their sector. They should also be capable of setting and achieving objectives.

Individuals should be active listeners who are comfortable in collaborative work contexts and have strong problem-solving skills.

Self-Management Skills: Indeed, only the best applicants will be able to manage their time effectively. They must be self-motivated and capable of setting and achieving goals through the use of systems. They should also have a strong work ethic and a good mindset.
Finally, they must be quick to adapt to change, as the medical sales sector is constantly changing.
Transferable skills apply to a variety of jobs. These skills aren't particular to medical sales, but rather work-related abilities acquired through a variety of roles. The following are some instances of transferable skills:
Medical sales recruiters are looking for candidates with marketing flair who know how to sell a product's features and benefits to a specific target. A medical sales rep's success depends on his or her ability to use various channels to reach out to potential customers or strengthen ties with existing ones.

Additionally, medical sales personnel need to be able to communicate effectively. Medical sales agents that can present to an audience, answer questions, and disseminate product information are in high demand. They're also looking for employees who can deal with client issues and objections.

Project Management: Qualified applicants will be able to manage projects. A medical sales region has a lot of moving elements, and the best candidates can create processes to help them manage and organise their territory so that they can achieve their company's goals.

Industry- Specific Skills
Skills that are directly connected to the healthcare business are referred to as industry-specific skills. These could have come from a job or school. The following are some examples of industry-specific skills:
Relevant Experience: Similarly, people who have already worked in medical sales are the best prospects for the job. According to Elitemed, a medical sales recruitment firm, hiring managers prefer salespeople with two to three years of expertise in the area.

Prospects who have worked as nurses, scrub techs, or other healthcare providers are frequently ideal candidates because they are familiar with the sector. Healthcare personnel, according to Elitemed, are familiar with the hospital environment and speak the same language as patients.

Likewise, candidates with a background in biotechnology or science have an advantage in the medical sales industry. According to MedReps, those with a scientific background are more likely to have technical writing abilities and be able to describe things well in everyday language. These individuals are also knowledgeable about research and how to persuade buyers of the product's benefits utilising evidence-based assertions.
Do you possess many of the foundational, transferrable, and industry-related skills outlined in this article? If that's the case, be sure you've received the appropriate training. You'll be able to land your first medical sales employment if you combine your efforts to learn the business and personalise your web presence to attract medical sales talent acquisition specialists.
So, what do you have to lose? You have a lot of work ahead of you. START NOW!