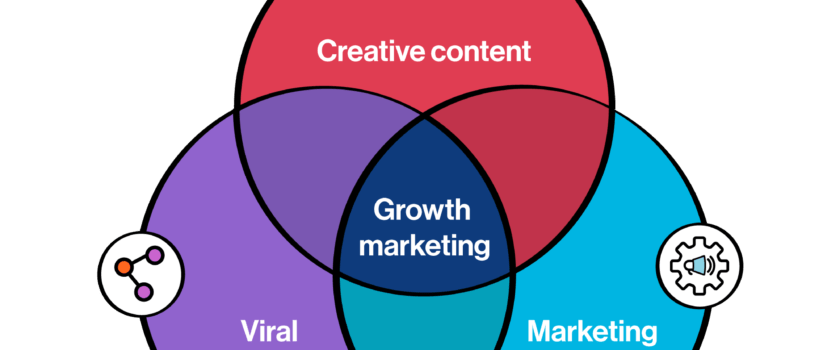 You had to plan ahead with traditional marketing. Maybe need to be foresighted too. You have to make a guess. While most marketers have used this long-term planning strategy, the most forward-thinking companies have realised that it isn't the most effective way to adapt to their market, bringing us to GROWTH MARKETING.
Growth marketing transforms the focus from "how can we attract our consumers?" to "how can we keep our customers longer?" by incorporating classic marketing elements such as print, TV, radio, and billboards. With this new dialogue comes the chance to reach out to your target audience using data-driven judgments. What's the end result? Growth that is long-term and sustainable.
It's all about the approach in growth marketing. Adopting concepts from Eric Reis's Lean Startup, a technique that enables today's startups to build and scale their businesses in a lean, iterative manner.
What is Growth Marketing?
Growth marketing is marketing 2.0 . It adds layers such as A/B testing, value-added blog articles, data-driven email marketing campaigns, SEO optimization, innovative ad text, and technical analysis of every aspect of a user's experience to the traditional marketing approach. The insights gained from these tactics are swiftly implemented in order to generate robust and sustained growth, .
Traditional marketing entails "set it and forget it" techniques, in which a budget is depleted and the best is hoped for. Consider Google Adwords and basic ad copy for display ads. These methods can help enhance a company's exposure and user acquisition by driving visitors to the top of the sales funnel, but their usefulness diminishes beyond that.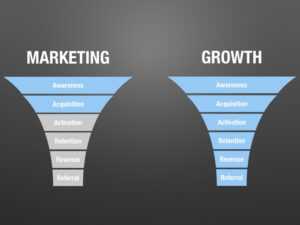 The top of the funnel isn't the only place where growth marketing is used.
When done correctly, it adds value throughout the marketing funnel by attracting people, engaging them, retaining them, and eventually converting them into brand advocates.
Transitioning to Growth Marketing
While this is not always the case, many growth marketers have a degree in business, marketing, or a similar field. When it comes to determining whether or not to pursue a growth marketing profession, prior marketing expertise is crucial.
By deciding to pursue this career route, you must first gain a clear understanding of growth marketing and how it differs from other types of marketing. Consider reading books like Sean Ellis' Hacking Growth, Ryan Holiday's Growth Hacker Marketing, and Gabriel Weinberg's Traction: How Any Startup Can Achieve Explosive Customer Growth.
Most people interested in a career in growth marketing are currently working in the marketing business and have discovered that they prefer to design and implement cross-channel marketing strategies rather than focusing on a single marketing channel. Follow these steps if you're bored with focusing on a single marketing channel or wish switch to growth marketing.
Set a goal, such as "improve email campaign click-through rates by X percent."

Collaborate with your team to come up with new ideas. Any growth marketer needs to be able to communicate as a team leader and bring everyone's ideas together.

Make a hypothesis such as "changing the subject from __ to __ will boost click-through rates by X%."

Put your theory to the test. Always start with A/B testing rather than multivariate testing if you're new to testing.

Measure the result and present it to the higher-ups. Even if your hypothesis was incorrect, the data might help you figure out what resonates with your target audience and create new test ideas.

Rinse and repeat as needed. Continue to experiment with different settings until you notice a noticeable change in the needle.
Related: Growth Marketing Jobs in 2022
Skills for Successful Growth Marketing
Here are the characteristics that distinguish the finest growth marketers.
They have strong feelings about creativity.
Growth marketers aren't always the most witty copywriters or the most attractive designers, but they can spot good creative work when they see it.
They can also tell if and when something isn't working in terms of creativity and provide actionable advice on how to enhance it.
You can easily combine a growth marketer with a graphic designer to improve both jobs' performance and efficacy.
Growth marketers have a strong understanding of performance data and know which metrics to examine in any situation.
Better more, they may leverage A/B tests to assist brands in making data-driven strategy and channel implementation decisions.
A/B testing is what propels marketing into the modern era from "the Mad Men days". You could pay a million dollars to get your items featured in a magazine spread before A/B testing.  Sadly, you'd never know the results.
Nowadays, growth marketers may provide you with concrete A/B (or A/B/C!) test data to aid with metric optimization.
They're open to any channel.
Instead of focusing on certain layers, as channel specialists may, the best growth marketers consider the funnel as a whole. A good growth marketer can see the big picture and consider how each channel fits into the bigger picture. Working on numerous channels at the same time is common in this situation.
At their core, they're engineers.
The activities of a growth marketing team eventually affect every part of a firm, not simply marketing. This necessitates a marketing mind that is similar to that of an engineer. Growth marketers are obsessed with transforming a company's business model and the entire customer funnel into a highly productive, repeatable machine.
Growth Marketing: Salary and Job Outlook
Salaries begin around $60,000 and rise from there. As more businesses embrace a growth marketing strategy, demand for growth marketing specialists become robust. If not expand, in the near future.
In conclusion, if you're interested in marketing, analytics, business, psychology, technology, and advertising, growth marketing could be a fantastic career option for you.
There are a lot of possibilities to learn these skills on the job, and many firms are hiring growth marketers right now.