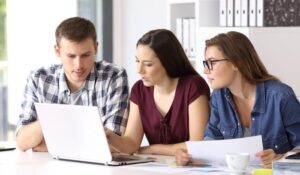 Once again, you are guilty. This time, you've been charged with the offence of looking up an Implementation Specialist Salary. Just kidding, it's totally fine that you wish to know what amount of money is proper to earn as an implementation specialist. This shows you are becoming better and learning a lot about job hunting. So please feel free to read this piece because I will be taking you on a journey to becoming an implementation specialist. Let's start by finding out what exactly they do.
Who is an Implementation Specialist?
An implementation specialist works with businesses that are implementing new software systems to ensure that the system satisfies their requirements. As an implementation specialist, your responsibilities include assisting with the installation and customization of SaaS systems. Collecting data regarding company objectives and arranging training sessions for company staff are two of your tasks. You may work alone or with a team of implementation specialists, depending on the size of your client firm and the breadth of the system implementation. You report to an implementation manager or engagement manager.
Although an implementation specialist and a project manager have some skills in common, they work on projects at different phases. Your goal as a project manager is to assist in the development of a project plan and to organise the various project teams. You're in charge of scheduling, budgeting, meetings, and status updates. When the creation phase of a project is completed and a client organisation purchases a software as a service (SaaS) package, your duty as an installation professional begins. You assist clients in learning how to utilise their new software systems and ensuring that they have a positive experience with it.
Duties and responsibilities of an implementation specialist may include but are not limited to:
Launching the implementation process as soon as the sale is completed.

Examine and evaluate the client's business to see how we can best tailor the product.

Customise the product depending on your findings and the needs of the client.

Set up the software.

Teach the program to the company's employees.
How to Become an Implementation Specialist
You'll need specific education to fill this role. A bachelor's degree in Computer Science, Information Technology, Engineering, or a related discipline is required. Before pursuing a position as an implementation specialist, you will need to get some experience in the field.
One of the first things to consider if you want to become an Implementation Specialist is how much education you'll need. 66.1 percent of Implementation Specialists have a bachelor's degree, according to our research. In terms of higher education, master's degrees are held by 10.3 percent of Implementation Specialists. Despite the fact that the majority of Implementation Specialists have a college diploma, it is feasible to become one with only a high school diploma or GED.
When looking at how to become an Implementation Specialist, picking the right major is crucial. When we looked into the most prevalent majors for Implementation Specialists, we discovered that they mostly earned Bachelor's or Associate's degrees. Master's degrees and high school diplomas are two more degrees that we frequently see on Implementation Specialist resumes.
You might find that previous work experience will assist you in becoming an Implementation Specialist. Many Implementation Specialist roles, for example, demand prior experience as a Customer Service Representative. Many Implementation Specialists, on the other hand, have previous work experience as Administrative Assistants or Technical Support Specialists.
Implementation Specialist Salary
When it comes to being an Implementation Specialist, there's more to it than meets the eye. Did you know, for example, that they earn an average of $31.87 per hour? That works up to $66,285 each year!
Below are averages for an implementation specialist's salary based on data collected over time.
The average base salary for an implementation specialist in the US is $63,000
Implementation specialist salary by state in the US include:
New York, NY:

$78,300

Phoenix, AZ:

$70,700

Houston, TX:

$68,600

Chicago, IL:

$66,700

Seattle, WA:

$63,200

Salt Lake City, UT:

$61,600

Atlanta, GA:

$61,200

Orlando, FL:

$59,700

St. Louise, MO:

$58,700
After Implementation Specialist Salary, What Next?
When you're ready to work as an Implementation Specialist, you might be wondering which firms hire them. Implementation Specialists are typically hired by Paychex, Accenture, and Nelnet. Paychex offers at least 235 Implementation Specialists job vacancies annually, 168 at Accenture, and 75 at Nelnet, so now is an excellent time to apply.
Technology and health care are the industries where Implementation Specialists play the most important roles. However, the Technology business pays the most for Implementation Specialists, with an average yearly salary of $66,042. They earn $62,233 in the Professional industry and $62,100 on average in the HealthCare industry. Finally, Implementation Specialists working in the Technology industry make 21.8 percent more than Implementation Specialists working in the Finance industry.
Apply for opportunities at Google, Citigroup, and Koch Industries if you want to work in a company where Implementation Specialists make the most money. We discovered that the average Implementation Specialist pay at Google is $134,409. Implementation Specialists at Citigroup, on the other hand, make around $105,889. And they earn an average of $103,367 at Koch Industries.
According to the Bureau of Labour Statistics, between 2018 and 2028, Implementation Specialist positions would grow at a pace of 10% . This is "faster than average." So, if you're thinking to yourself, "Should I be an Implementation Specialist?" Now is the time. Start your career as an Implementation Specialist HERE.