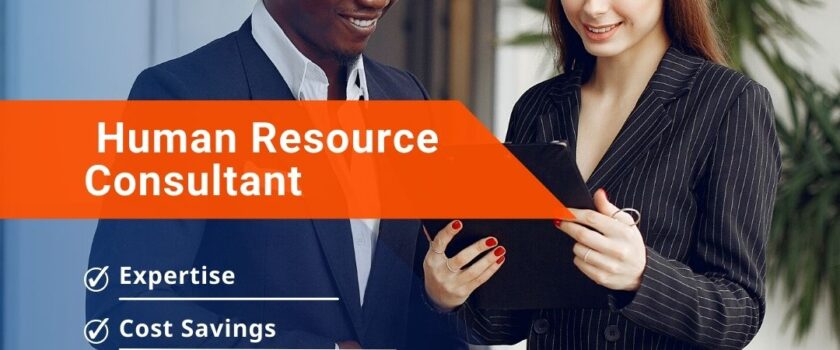 Human resource is a profession that demands integrity, confidentiality and high interpersonal interaction skills. 
Human resource consulting involves the counselling and implementation services relating to an organisation's human capital management and the HR department.
An Hr consultant works with a company's management and executive professionals to teach them the leadership qualities necessary to manage their workforce. 
In addition, they offer experience, curiosity, and a development mentality to each coaching session.  
An HR consultant may work as a sole business owner or an in a consultancy agency.
In general, HR consultants are frequently hired to advise organisations on a wide range of issues affecting their personnel.
For example, new businesses may utilise their services to build corporate policies and procedures and assure compliance with applicable laws governing their employees, whilst bigger businesses may use their services to establish grievance mediation processes. 
They may even go so far as to provide recommendations for changing a department's leadership structure in some situations.
Consulting firms provide services like broad work on human capital strategy and implementation of a compensation and benefits framework.
There are several roles in the human resource consulting business, which include:
 Expert Resource Consultant
The Expert Resource Consultant makes recommendations based on their knowledge and experience and assists in implementing human resource programmes, benefits, and employee welfare. 
The consultant also ensures that an organisation's human capital serves the company's best interests.
Process/People consultant
Process and people consulting aid in the search for answers by utilising strategies that permit and boost the client company's innovation. They also identify and analyse problems involving team members.
The People and Process consultants are professionals that possess insights into the psychological and social dynamics of dealing with diverse client systems such as entire businesses, groups, and people.
People and process consultants are hired during an organisation's development stages. They are also hired when a company is in the formative, normative, or conflicting stages.
Management Consultant
Management consultants help organisations to solve issues, create value, maximise growth and improve corporate performance. They also assist organisations in improving their performance and accomplishing corporate goals.
Typically, they work with an organisation's management to improve aspects of business, such as productivity, management, and company image.
Services Offered by Human Resource Consulting Firms
HR consulting firms offer the following services to clients and organisations.
Talent mobility: They offer insight and implementation for complete international expatriates (often executives) or local plus (partial-package expatriates). These services range from a pre-move instructive guide to a post-move expatriate management programme.

Talent Management: HR consultants help organisation strategies on talent onboarding and recruitment strategies. They also offer strategies to develop, motivate

 

and retain high-performing employees.

Design Employee benefits: They design an organisation benefit plan for employees and associates by assessing its competitiveness of cost-effectiveness. They also assist in negotiating the cost of benefits with suppliers that deliver the organisation's benefit plans.

Compensation Plan: HR consultant develops and manages compensation packages, including base pay, bonuses, and stock options. They also evaluate the position and the development of wage structures, bonus schemes, and stock plans for clients.
Also see: How to Open a 401K Without an Employer? Secrets You Never Knew
Mergers and acquisitions: They conduct human capital due diligence and coordinate and administer cross-functional activities. They also ensure that organisational cultures and work styles during post-merger integration aligns.

Legal counselling: They occasionally give legal advice to businesses on recruiting choices and corporate employee welfare.

Policy Development: HR experts assist in the development of a policy and procedure guide that offers basic information on office hours and attire, payroll procedures, behaviour, yearly reviews, workplace safety, and grievances. In the case of a lawsuit, the guidelines and rules are critical.
Related articles: Best Paying Human Resources Career
How to Become a Human Resource consultant
A person looking to begin a career in Hr consulting must possess minimum qualifications such as a solid. 
A bachelor's degree in business administration, business management, finance, human resources, or a similar discipline is often required for a career in human resources consulting.
Furthermore, human resource consultants who desire to advance their education must complete a master's degree in any discipline linked to human resources.
The Master of Business Administration (MBA) in Human Resource Management, a more common HR degree, gives a foundation in HR-related areas and business ideas. It trains students and professionals in areas such as finance, leadership, marketing, and management, among others.
These certifications set the HR consultant apart from the competition and help them establish themselves as industry leaders. Human resource consultants can get a range of professional certifications. These credentials are designed expressly for the industry of human resource consulting. They include: 
Certified Human Resources Consultant (CHRC)

Certified Resources Analyst, Human Resource Certification

Senior Professional in Human Resources (SPHR)

Society for Human Resource Management

Certified Professional (SHRM-CP)

Certified Personnel Consultant (CPC)

Global Professional in Human Resources (GPHR)

Certified Compensation Professional (CCP)

Certified Professional – Human Resource (IPMA-CP)

and many more
Some of the listed courses can be enrolled with the Human resource management institute.
To do well in the consulting business, an HR consultant must possess some important skills that will be required to carry out the job effectively. These skills include:
Self-confidence
A successful consultant must possess confidence. This will ensure that you can effectively communicate information to prospective clients and clientele, including their employees. 
Excellent listening skills
HR consultants must possess the skill of carefully listening to the needs of their clients so as to implement solutions that address their specific needs.
Trustworthy and discretion
Human resources consultants must build excellent connections with their customers, display honesty, and safeguard the confidentiality of information provided to them as they work with highly sensitive information and policies of a company.
People Management Skill
HR consultants must have a fundamental understanding of how to manage people from various backgrounds, as different workers may demand different management styles.