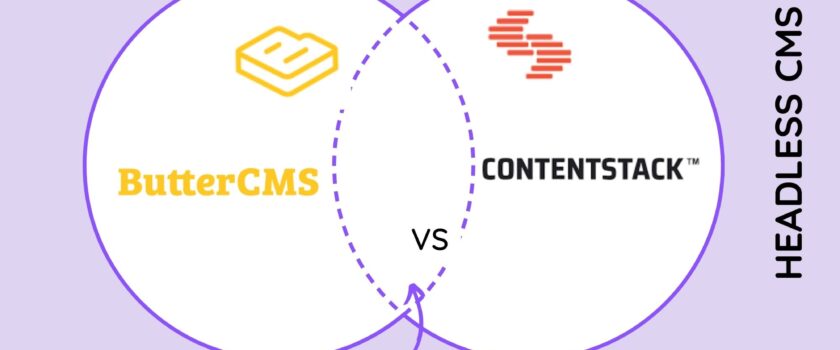 You may have heard the phrase "headless" used to reference content management systems (CMS) and what they mean. The phrase headless in CMS refers to the back-end-only web content management system that primarily serves as a content repository.
Additionally, developers can utilize APIs to deliver content on various platforms, including iOS, Android, wearables, and virtual reality.
There are several headless CMS software available in the market; businesses frequently find themselves contrasting two or three software to determine which one best suits their needs, for example, the ButterCMS Vs Contentstack comparison.
So, if you are looking to compare both headless CMS or want to find out which software will better suit your business need, you are in the right place. We will help you get off to a fast start and gain competitive advantages for your firm.
What is ButterCMS?
ButterCMS is a high-speed content API and simple marketing dashboard for modern apps with a content API that integrates into any tech stack. Users of Butter CMS may manage all their content from a single dashboard. 
Additionally, it offers customers the freedom to create a multi-channel multimedia experience. ButterCMS includes an SEO Built-In feature that enables users to rapidly set up their blogs and utilize the SEO metadata and description for SEO optimization. The user's content is easily accessible to any business and other agencies.
ButterCMS is used to develop, deploy and manage marketing websites, blogs, and web pages for SaaS products, marketplaces, eCommerce, and more. Organizations can design personalized blogs with custom themes, logos, content, font, and colors and embed them into existing websites.
What is Contentstack?
Contentstack is a SaaS cloud-based headless CMS, a software product by San Francisco-based Built.io. Contentstack supports both headless content delivery as well as headless e-commerce. You can increase your traffic and maintain control over your data. It also provides performance at enterprise levels. 
Its highest possible security provides a two-factor and Webhook authentication, 256-bit encrypted content store, SSO with SAML 2.0, and secure APIs. You can integrate Contentstack with AI to create real-time and augmented reality experiences.
Contentstack help businesses deliver personalized content experiences to audiences via multiple channels, including mobile or web devices, augmented or virtual reality platforms, and more.
ButterCMS Vs Contentstack: Headless CMS Comparison
ButterCMS Features
On ButterCMS, you can quickly manage all content from a single central dashboard. The software can also resolve CMS issues faster thanks to its logical content modeling and simple-to-integrate content API.

Pages, including landing pages on ButterCMS, are infinitely flexible.

It enables you to easily schedule promotions and significant content releases with the ability to plan when you want your new material to go online.

Thanks to its revision history feature, you can see who made what changes and when. The feature allows you to also go back in time with a single click.

Wherever your clients are—on the web, mobile devices, and elsewhere—one Content API powers all your content to them.

Has customizable SEO and social components that fine tunes your SEO and social media meta tags to drive organic traffic. This feature also ensures that your content ranks and looks great when shared on social.

Offers a split-screen preview so you can see your changes exactly before they go live.

Helps businesses stay synchronized and maintain the flow of content through bespoke roles, workflows, and more. Administrators can also specify locale-based permissions for particular local markets, allowing your team of translators and marketers to collaborate on projects together.

You can localize to as many different languages as you wish by going global.

Provides a unified multichannel & multi-site content management for businesses and enterprises.
ButterCMS Cons:
The user interface needs improvement in specific areas, for example, adding more commonly used templates.

It has a 1,000 content field cap on the highest plan.
See other Headless CMS Comparison: Contentful Vs Storyblok
Pricing:
Offers a free trial experience, after which users must then subscribe to one of the paid experiences, after the free trial experience. Pricing is available in four options:
Micro – $ 83 per month
Startup – $ 166 per month
Small Business – $ 333 per month
Enterprise + Agency – custom pricing
Contentstack Features
Contentstack's webhooks are easier to integrate with a third-party application. In addition, it supports integration into any new application with relevant APIs while enabling you to customize solutions that increase the platform's functionalities.

Supports the creation of static sites for your front end, unlike other CMS.

Allow content editors to build and edit dynamic pages within the headless CMS without help from a developer.

Offers intelligent editorial team collaboration while offering administrators access to manage all media files from a single admin interface.

Full-featured visual builder for building whole pages without coding.

With the help of the Content stack, you may also work across numerous channels for your content creation, from development and testing to staging and production.

Offers auto-scaling computing configured to manage surges in heavy demand.

Auto-optimises content like images and other graphics for mobile phones and tablets

Its feature Backend by CDN provides faster static content delivery.

Premium uptime SLA for enterprises that can't afford to go down

Provides limited pre-built solutions out-of-the-box to make technical and non-technical users' lives easier.
Contentstack Cons:
The consumer base is severely constrained because it lacks native eCommerce capabilities.

Making the appropriate content for your business's needs can be challenging and also challenging to modify content types.
Also See Strapi VS Hygraph, Headless CMS Comparison
Pricing: Available in three options
Start – $995 per month
Grow – $4500 per month
Scale – custom pricing
What Do Users of Both Products Think About The Products?
According to G2 compare reviewers:
ButterCMS is rated overall easier to use, set up, and conduct business with when comparing the two alternatives. However, reviewers preferred the ease of administration with Contentstack.
Reviewers also felt that Contentstack meets the needs of their business better than Butter CMS.
Reviewers felt that Butter CMS is the best choice when considering the standard of ongoing product support.
The reviewers also liked the direction of Contentstack over Butter CMS for feature upgrades and roadmaps.