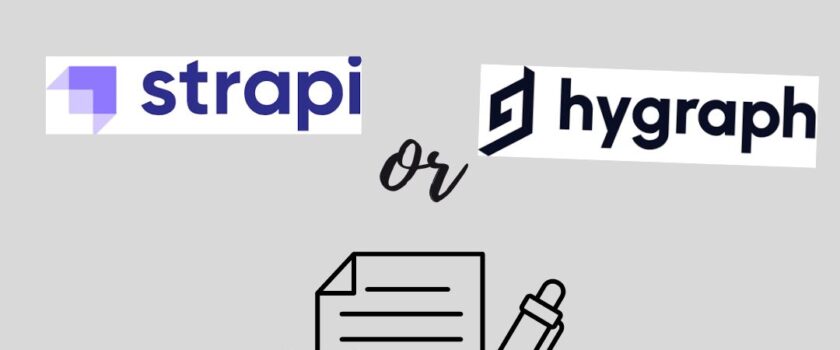 Strapi vs Hygraph:
Strapi and Hygraph, as we all know, are both headless CMS. While both are market competitors, they have different features that are unique to their businesses and satisfy the needs of their clients.
So, if you're looking to upgrade or switch your solution, or if you're looking to find the best option for you and your company, then grab some popcorn and read this article. We will spare you the details of guesswork and keep you informed with some end-user(s) input as you discover and pick the solution that best meets your needs.
But firstly, what is a Headless CMS?
A headless Content Management System, or CMS, is a web content management system that merely serves as a content repository on the back end. The construction of a headless CMS is simpler, faster, and more adaptable. You may not only select your programming language, but you can also design your "head" from scratch.
What is Strapi?
Strapi is an open-source, Node.js-based, Headless that allows you to create and manage content for your websites and apps while exposing your website to an online presence.
Strapi was founded in 2016 by a French firm. It serves enterprise organizations, agencies, freelancers, start-ups, and individuals. Furthermore, the program is only compatible with Mac and Windows systems.
Strapi Features
Strapi includes sophisticated filtering, sorting, and pagination capabilities, including authentication limitations. It also supports a range of databases, including PostgreSQL, MongoDB, SQLite, MySQL, and MariaDB. Its APIs are universal, with options including REST, GraphQL, JSON, and many more.

Strapi's UI design is simple and user-friendly, and the interface is very intuitive. The Content-Type structure is also flexed according to your needs, offering dozens of fields.

The software allows you to create APIs by managing the content structure using a user-friendly admin panel. You can also access API files at any time and edit them manually. In addition, the API and Model-Service-Controller are customizable, offering users flexibility and complete control over them.

Strapi is not suitable for serverless environments and cannot work in different environments.

You can build multilingual websites and apps. You may also localize your content by translating the text and modifying the page's messaging and structure for each translation.

Strapi, on the flip side, does not yet offer any tools for transferring or delivering data changes between environments (that is, from development to production).

Strapi integrates with the best-in-class third-party providers to also provide a unique editing experience.

You can easily manage your SEO metadata on Strapi.

Front-end developers can reuse codes and content. You can also upload your images, videos, audio, or documents to the media library.

Lastly, Strapi is classified under the category of headless CMS, AWS Marketplace, and content management.
What is Hygraph
Hygraph is the first native and next-generation GraphQL Headless CMS with an emphasis on Content Federation. In addition, Hygraph is a front-end and back-end agnostic API-first solution. Michael Lukaszczyk, a German, founded Hygraph, which has its headquarters in Gießen, Hessen, Germany.
Hygraph Features
Developer-focused features that employ robust APIs to let teams move swiftly and modify projects to meet their specific needs.

You can also map out the content structure and create models using the intuitive Schema Builder.

Its performance and scalability are designed from the outset to assist teams, from the user interface to the viewer, guaranteeing that teams never sacrifice speed at any step of the content lifecycle.

It translates, publishes, and manages content with several localities from a single piece of content, eliminating clutter and speeding up global content development.

Its Content Management utilizes features that help organize, edit, and publish content, including tracking where content is within the workflow and who edited each piece of content.

Hygraph provides developers with tools to quickly extend the functionality of the project to help with integrations and customizing projects to meet the demands of the entire team.

Hygraph adapts to changing consumer needs, seamlessly integrates with corporate stacks, and also empowers market leaders to deliver omnichannel product experiences at scale.

Its management SDK programmatically manages entire projects using Schema via migration without leaving your code editor.

Hygraph automatically generates queries for fetching single and multiple entries for each defined content type.

Lastly, Hygraph is classified under the following categories:

Headless CMS

Content Management

Digital Experience Platforms (DXP)

Directory

Document Control

eCommerce

eLearning Authoring Tools

Enterprise Content Management (ECM)

Forms Automation

Headless eCommerce

Mobile Content Management System

Multi-Channel eCommerce
What Do Users of Both Products Think About The Products?
Strapi Vs Hygraph
When assessing the two solutions, reviewers found Strapi to be more user-friendly. They, however, found Hygraph easier to set up and manage. Overall, reviewers preferred doing business with Hygraph than with Strapi.
From our deductions:
Reviewers believed that Hygraph suits their needs better than Strapi.

When comparing the quality of ongoing product support, reviewers also believe that Hygraph is the preferred option.

For feature updates and roadmaps, reviewers preferred the direction of Hygraph over Strapi.
Top 10 Alternatives for Srapi Vs Hygraph
Sanity

Butter CMS

G2 Deals

Content Stack

Kontent.ai

Webflow

WordPress.org

Craft CMS