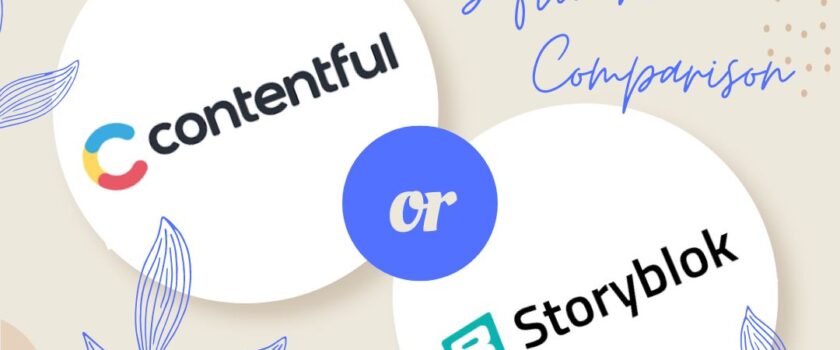 Contentful VS Storyblok: Are you looking to compare both headless CMS? Or looking to see which software will better suit your business need?
This article will give you an overview of both products, services offered, and many more.
While we have established that both software products are among the most populous headless CMS as of 2023, let's take a moment to explore what they are.
A headless Content Management System, or CMS, is a back-end-only web content management system that primarily serves as a content repository. Headless CMS creation is easier, quicker, and more flexible. Not only can you choose your programming language, but you may also create your "head" from start to finish.
What is Contentful?
Contentful specializes in managing content for large and small businesses in numerous forms. Its sophisticated text editor allows you to generate visually appealing material such as text, location, and date. The program also allows extensive content customization and is created in several languages.
What is Storyblok?
Storyblok is a tool that assists organizations in taking care of their content in a systematic way. The visual composer previews changes before they go live. Storyblock's content blocks enable developers to reuse components such as teasers, grids, or feature sections elsewhere. Users can specify their content localization strategy to serve numerous countries and languages.
Contentful VS Storyblok: Headless CMS Comparison
Development Stages
Contentful
Contentful is more versatile in terms of reusing code. It allows the reuse of text, images, products, and data.
Vs
Storyblok
The cost of reusing material on Storyblok is the loss of visualizing the content. This is because it is more complex to manage a USP platform with large content pieces.
To summarize, when it comes to visualization, Storyblok outperforms Contentful, but when scalability is more essential than visualization, Contentful is a better Headless CMS option.
Content Visualization
Storyblok
Storyblok is very visual. When content is modified, the editor receives an instant preview of how it will appear. However, one disadvantage is that Storyblok is focused only on creating websites but cannot be used for other platforms, such as developing a mobile app.
Vs
Contentful
Contentful allows you to reuse content. It also enables data integration into other platforms, such as mobile app, chatbot, or even brochures.
Also compare: Algolia Vs Elasticsearch: The Technical Comparison
If you want to work with more than one platform, Contentful is a superior option.
Data Linking
Contentful
Contentful employs a manual process to update data or product IDs that are added to the site; for example, if a new product or ID is introduced to the Commerce platform, the CMS must be updated manually. .
Vs
Storyblok
Storyblok uses a standard technique to retrieve data from other platforms. This link is easy to establish with any external data source while ensuring that headless CMS remains updated.
So if you or your business deals with many changing products, then Storyblok is a better choice.
Managing Content
Contentful
Contentful has an extensive version management system. It allows content migration between different Contentful environments using the Contentful Command Line Interface (CLI) and is highly recommended for larger projects.
Vs
Storyblok
Storyblok, like Contentful, provides a command-line interface (CLI) that is accessible as an npm package. However, it has far less extensive visual version control than Contentful. Storyblok can work with numerous environments, but this has to be configured independently, unlike Contentful, that comes with many environment by default
Again, we may infer that Contentful is better advanced for this comparison.
What Users of Both Products Think
Below are some of the reviews users of both software gave.
Contentful
"We switched to Contentful as a way of consolidating our CMS from three to one. Development is ongoing, but I am over the moon with how effective it has been for us to work with Contentful."

"In the few years that we have been working with various CMSs, Contentful has been very successful and one of the safest and most well-designed decisions."

"It is impossible for users to create elements totally out of line with the corporate design. Contentful also loads faster than many other CMS."

I've used many CMS before, and Contentful is one of the best. We have a very complex content production process with many global sites and locales, and Contentful handles it all very well. Also, it seems easy for our developers to build on top on.
Vs
Storyblok
"It lets non-technical users be fully autonomous. At the same time, the platform and the APIs are powerful and versatile for developers. The new Image Editor is handy for small images editings needs."

"The thing I like best about Storyblok is without a doubt, its visual editor. Not only has it been revamped and re-imagined in V2, but it's intuitive and content-editor friendly. It's the "drag & drop" experience we've all been waiting on. And to top it off, they have an amazing community to boot."

"The backend is beautiful and easy to use. I love how I can add example screenshots to my components; it helps our clients. And now the V.2 die icons and colours are nice for developers. The new Image editor is great too and saves basic photoshop time."

"Generating content for an international audience through Storyblok's internationalization and localization tools is easy for our team. We've accessed our data via a meaningful GraphQL API. Also, I like StoryBlok's Intelligence in producing and auto-converting content to responsive pages and visible on all devices with any page size and resolution."

"Story and content management through customized software in an easiest way Tech savvy and user-friendly software. Everyone can use and operate the same at all times. Highly stable across all kinds of business environments. One of the smallest tools to create and manage content services for all businesses."
Conclusion:
 Both Conentful and Storyblok are categorized as Headless CMS, Web Content Management, and WebOps Platforms.
However, they have other unique categories that differentiates them from each other. For example:
Contentful is additionally, categorized as VR Content Management Systems and SAP Store
While Storyblok is categorized as Component Content Management Systems, Enterprise Content Management (ECM), and Digital Experience Platforms (DXP)