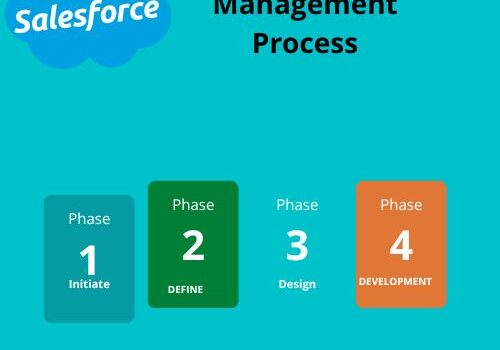 Many people ask if Salesforce handles project management. The answer is yes. However, there are no full project management functionalities; instead, you will find the following options on Salesforce for project management
Available but limited Salesforce features.

Well-known project management apps.

Salesforce-native project management apps.
Companies leverage PMS because of its benefits, such as its integration, flexibility, 360-degree view for customers, security and real-time reporting. Salesforce project managers employ three main options for managing projects in Salesforce, which are:
Built-in features

External project management solutions
These options help them leverage the benefits of a project management salesforce(PMS). Additionally, because many companies want to leverage these benefits, the demand for Salesforce project managers is lucrative and high. Before we dwell on the career outlook of a Salesforce project manager, let us first understand what the concept of Salesforce is and what project management is too.
What is Salesforce?
Salesforce is unquestionably one of the most popular SaaS-based CRM tools in the world, but Salesforce offers so much more than just CRM features. It is an essential collection of tools and services designed to serve different functions. The services provided by Salesforce enable business departments such as sales, support, and marketing teams to better connect with associates, customers, and potential customers.
What is Project Management?
Project management is the application of techniques, methods, skills, and knowledge to meet specified project objectives. It entails the planning and coordination of a company's resources to complete an assigned task, operation, or responsibility.
Salesforce Project Manager Career Outlook
Salesforce project managers are qualified management experts that oversee and monitor the development of Salesforce applications from start to finish.
Furthermore, they are well-versed in Salesforce's products and platforms. The priority of a Salesforce project manager is to ensure that the project is completed on time, cost-effectively, and within budget.
These professionals collaborate extensively with various client-side stakeholders while also managing the consultancy-side implementation team to guarantee project completion by planning, driving and ensuring the execution of all project stages.
The Salesforce project manager role is often a career progression for experienced Salesforce consultants or administrators. However, one can become a Salesforce project manager without prior Salesforce experience, but this is usually rare or unheard of.
People in this career path can work remotely, onsite or explore the hybrid alternate work option. One can also be a freelancer or self-employed while building portfolios on freelancer platforms such as Fiverr and Upwork.
You can find remote Salesforce project manager jobs around the US, the UK, Canada and Australia on vizajobs.
Certification and Credentials Requirement.
A bachelor's degree in business management, project management, or a related field is often the minimum requirement for a Salesforce project manager.
Getting a Salesforce certification is a requirement for most jobs in the Salesforce field. It is also essential to note that the Salesforce administrator certification is the foundational level certification for all roles in Salesforce.
Additionally, if you are looking to stand out when applying for a Salesforce project manager, you will need the five baselines Salesforce certifications which are:
Administrator Certification

Advanced Administrator Certification

Platform App Builder Certification

Sales Cloud Consultant Certification

Service Cloud Consultant certification.
All Salesforce certifications are completed on Trailhead. The Trailhead platform is Salesforce's free online learning academy.
Courses can be completed in a candidate's space. In contrast, it may take six weeks to complete. However, it may take a work-experienced person 2-3 weeks to complete courses.
Related article: What Job Can You Get with a Salesforce Administrator Certification?
Some certifications require renewal as some courses have a validity period. An example is the administration certification, which is valid for one year. Renewal modules are obtained during the spring through the Trailhead account.
Certifications also pose the ability to raise the salary of any Salesforce worker. There are higher chances that your salary could increase with the more Salesforce certifications you acquire. 
Salesforce has over 35 certifications that span several different products, disciplines, and experience levels.
Job description of Salesforce Project Manager
The job duty of a Salesforce project manager includes:
Analyze client briefs and project demands.

They also liaise with clients and management regarding project timeframes, expenses, and objectives.

Identify project risks, opportunities, deliverables, and threats.

They also develop tasks and strategies for Salesforce projects.

Develop metrics for each project to determine paths to success.

Guide and mentor teams to achieve project outcomes.

They also manage the Salesforce development team of developers and consultants.

Communicate with clients and act as their initial point of contact.

Conduct meetings with the development team frequently.

Ensures that all team produces work and also adheres to Salesforce's best-design principles.
Salesforce Project Manager's Salary
Salesforce Project Managers find themselves in a favourable competitive market since their skill set is in high demand.
According to Indeed, the average salary of a salesforce product manager in the United States of America is $61,449. In the United Kingdom, the average salary for a Salesforce project manager is £62,923 per year. The average salary for a Salesforce Project Manager is C$175276 per year in Canada. The average annual salary in Australia is AU$206038.
However, SalesforceBen estimated the following compensation for Salesforce project managers based on the Mason Frank Salary Survey:
Salesforce Project Manager Salary in the U.S.
Junior Staff: U$120,450
Senior Staff: U$141,400
Salesforce Project Manager Salary in the UK
Junior Staff: £69,900
Senior Staff: £87,000
Salesforce Project Manager Salary in Canada
Junior Staff: C$99,700
Senior Staff: C$117,050
Salesforce Project Manager Salary in Australia
Junior Staff: AU$142,700
Senior Staff: AU$167,700
The salary of a Salesforce project manager depends on many factors, such as location, years of experience and many others. Also, the average salary may vary in some cities in these countries as the cost of living may greatly influence the average pay for Salesforce project managers. You should, however, consider working in a city with a lower cost of living when starting as an entry-level, as most high-cost-of-living areas are higher than the national average cost of living.
Most Frequently Asked Question
Can you become a Salesforce Project Manager with only certifications? 
No, you will need industry experience to become one. You will need at least a few years of experience as a Salesforce administrator. Some hiring managers will require that you have three working years of experience in project management, Salesforce development, or Salesforce consultancy.