Quality Assurance vs Quality Control?
These are words that are frequently confused and so used interchangeably. This is due to the fact that both are intertwined parts of significant quality management that ensure high-quality products that match client expectations. However, there are a few key variations between the two, which we'll go over in detail in a discussion of quality assurance vs quality control.
Let's define quality assurance and quality control according to the International Organization for Standardization's rules before moving on to the fundamental distinctions between the two.
Quality Assurance is a method of ensuring that quality criteria are met, that the product is "fit for purpose," and that it is created "right the first time."
WHILE
Quality Control is the process of meeting quality requirements by extensively inspecting the quality of all production elements. A systematic set of techniques used to assure the quality of software products or services is known as quality control in software testing. By testing and reviewing the software product's functional and non-functional criteria, the quality control process ensures that it fulfills the actual needs. QC is quality control.
Check out: QA & QC jobs near you
The two aspects of quality management are quality assurance and quality control. They are different eventhough some actions in quality assurance and quality control sometimes overlap. QA tasks and responsibilities typically involve nearly every aspect of the quality system in some way, whereas QC is a subset of QA activities.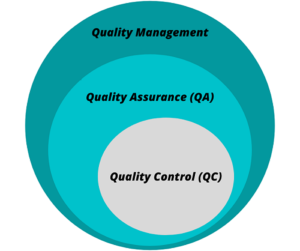 Quality Assurance vs Quality Control: Major Differences
Many people believe that quality assurance and quality control are synonymous, however this is not the case. Both are inextricably intertwined, and distinguishing the two can be difficult at times. They are linked to one other, yet their roots are different. Both QA and QC are part of Quality Management, although QA focuses on defect prevention while QC focuses on defect detection.
To fully comprehend the distinctions between quality assurance and quality control, you must first comprehend how the two processes interact to improve your organization's quality and eliminate corrective actions. Differences are:
Quality assurance that works is proactive. Through process design, it seeks to prevent defects before they occur. QC is a reactive process that seeks to find faults in product quality after they have occurred.
Process design, such as recording standard operating procedures, is part of QA (SOPs). The end result of a followed process is a safe and effective product. QC entails evaluating items to verify they fulfill safety and efficacy standards. 
Ideally, QC concerns should also prompt a quality assurance review. Non-conforming test findings should trigger a corrective and preventative action (CAPA) study to uncover the root cause of quality issues and improve systems to avoid recurrence.
Quality assurance is process-oriented. Its focus is preventing quality problems. QC is concerned with discovering quality concerns in manufactured products that may affect consumer satisfaction. Actions vs. results is another way to think about this dichotomy. QA is concerned with the actions that result in the product, whereas QC is concerned with the finished product. Below are a few instances of each type of activity.
Quality Assurance Processes:
Documentation

Audits

Change control 

Supplier management 

Personnel training

Investigation procedures
Quality Control Procedures:
Inspection of batches

Product testing

Validation checks

Laboratory examinations

Software evaluation
Quality assuance control systems are methods and procedures used to protect quality standards.It measures parts, as well as the system's outputs.
Parts needed to make the final product, such as raw materials from a supplier, may be the subject of QC efforts. The QA system mandates tasks such as, checking suppliers and batch sampling raw materials. This is for quality management to ensure that inputs are consistently safe and effective.
Verification vs. Creation
QA efforts produce a roadmap for developing high-quality goods. It includes establishing guidelines for product design, production, packaging, distribution, marketing, and sales.
QC confirms the safety and efficacy of products after they have been after production and before distribution.
Dedicated Personnel vs. Entire Team
Quality assurance requires the entire team. Following SOPs, every member of a life sciences organization is responsible for QA operations. QA activities include standards for training, documentation, and review across the workforce, while the quality management system (QMS) is normally the responsibility of the quality unit and the leadership team.
QC is typically the duty of a group of employees whose responsibilities include following SOPs for product testing. Quality control personnel follow standard operating procedures and document their findings using established techniques for product testing and process validation.
Quality Assurance vs Quality Control: Does QA remove the need for QC?
To this question, the answer is a resounding NO. After QA, a project needs QC. While in 'QA,' we design the processes, policies, and strategies that will be used and followed throughout the project's life cycle, as well as establish standards and develop checklists. In QC, we adhere to all of the stated processes, standards, and rules to ensure that the project is of high quality and meets or exceeds the customer's expectations.
QA does not guarantee quality; rather, it builds and monitors the systems that ensure quality. Quality control is not the same as quality measurement. Instead, result from QA measurements improve future projects of QC
In a word:
Quality control puts the right things in place. It focuses on discovering and addressing faults, whereas quality assurance ensures that the results are as intended by focusing on improving procedures to prevent things from going wrong in the future. Both are distinct from one another but equally important when it comes to assuring quality because they are at the heart of quality management.