Tech, tech, tech! These days, everyone can be a techbro without being a developer right? Meet Dan, a 26 year old graduate with a background in data-processing who is looking to become the world's biggest information technologist.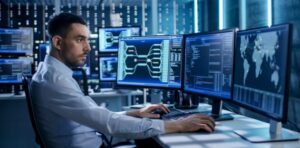 Information Technologist?
Yeah, Dan wants to pursue a career in Information Technology. However, he does not know how to or where to start from.
Don't get confused. Information Technolgy is something. Hence, this article is going to walk you through all you need to know about the job and how to become an Information Technologist.
Who is an information technologist?
Information technologists assist businesses in staying competitive and active in a technology defined world. They assist in the efficient operation of all computers in the company by doing routine database and network security tasks.  Any firm that uses computers on a wide basis can hire an Information technologist. Some also collaborate with firms to resolve technical challenges.
Commonly known as computer or technical support professionals, Information Technologists ensure that a company's computer systems work properly. They also carry out routine maintenance inspections to discover issues and then work to resolve them. An ideal IT specialist requires basic computer, technological, database, and security knowledge. 
According to information from the US Bureau of Labor Statistics, IT is a great career field as it which predicts a strong job outlook.
The first requirement for this position is a bachelor's degree in computer science, information technology, or a similar discipline. However, some employers may accept an associate's degree followed by work experience.
What does an information technologist do?
Your major task as an Information Technologist will be to keep your employer's computer systems in good working order. Hence, your key responsibilities will include installing, configuring, and testing software. Maintaining hardware, setting up networks, resolving technical issues, and installing upgrades. Writing documentation or instructions, constructing simple query programs, offering training to staffers, and assisting with hardware and software purchasing decisions. Here's a detailed Job description that would help give an insight into what you should expect as an Information Technologist:
Researching information technology and its applications

Creating and implementing an organisation's information systems strategy

Managing computer hardware and software development, management, and support

Performing feasibility analyses for new products or services

Educating people on how to use information technology

Operational support for users

Using a number of application software tools to perform data processing tasks

Supporting project work, technical services, and user assistance by doing administrative activities.

Creating and operating a telecommunications system for an organisation

telecoms equipment upkeep

Keeping telecommunications networks up and running

Managing Web site development, configuration, and implementation

Managing an organisation's information system development, deployment, and maintenance.
Skills to Possess as an Information Technologist
Many Information Technologists require specific abilities in order to carry out their tasks. We were able to narrow down the most prevalent skills for someone in this position by looking through resumes. Here are some of the skills we found recurring:
Problem-solving abilities assist you in swiftly and successfully resolving challenges. It's one of the most important skills that employers look for in prospective information technologists. Often times, employees with these abilities are more self-sufficient. These skills necessitate swiftly identifying the underlying problem and putting a solution in place.
Problem-solving is a soft skill (a personal strength), not a hard skill you learn in school or training. You can develop problem solving skills by familiarising yourself with frequent challenges in the industry and learning from more experienced personnel.
Technical writing skills:
Any writing that deals with technical material is referred to as technical writing. It can include, but is not limited to, the creation of technology-related technical handbooks. As they must express complex material, Information Technologists must have excellent technical writing skills. They must also have a basic comprehension of technology, as it is difficult to explain something that you do not comprehend.
Technical writing should be brief, focused, easy to read, error-free, and targeted towards a specific audience. Technical writers strive for clarity in their works, avoiding too technical terms and stylistic choices such as passive voice and nominalizations. Because these documents are used in real-world settings, it should always be apparent what a technical document's subject matter is and how to utilise the information supplied.
How to become an information technologist
The most important qualification for becoming an IT specialist is a bachelor's degree in a computer-related discipline. Bachelor's degree students generally begin by getting a strong foundation in mathematics, science, and engineering. They also get a thorough understanding of computer science aspects like data structures, numerical analysis, data management, and programming languages classes, 
Choosing the Right Major:
While a variety of majors are appropriate for this criteria, the IT major is ideal for this position. IT systems and computer security skills are two more useful specialties.
A degree gives much of the academic information that an Information Technologist needs; nevertheless, this knowledge must be turned into practical understanding. Hence, field experience is needed. It is advisable to start looking for work in the final year of your undergraduate as many firms recruit directly from the best universities and institutions in the country. On the other hand, you can apply directly for Information Technology Jobs HERE
However, when it comes to interviews, students with internships or work experience have an advantage.
Also, having a minor in a relevant or beneficial discipline, can also help you land a job. For entry-level employment, it is important for applicants to have some familiarity with a variety of software systems or languages. Employers aren't always searching for experts in the field, but rather for those who have a basic understanding of the subject.
Consider Furthering your Education:
Certifications forster growth in your career as an Information Technologist. However, senior positions require further schooling. Master's degrees in business analytics, cybersecurity, big data, or information technology will strengthen your resume and provide the abilities needed to fill top-level roles in technology firms. These courses can be taken on campus or online.
Hence, if you are looking to pursue a career in Information Technology, you should know this; It takes some schooling and a lot of on-the-job experience to become an Information Technologist. It is also very important to keep up with the latest technologies in a specific sector. For growth, professionals should acquire certifications in their fields of expertise and continue to educate themselves, whether through advanced degrees or vendor-sponsored seminars.