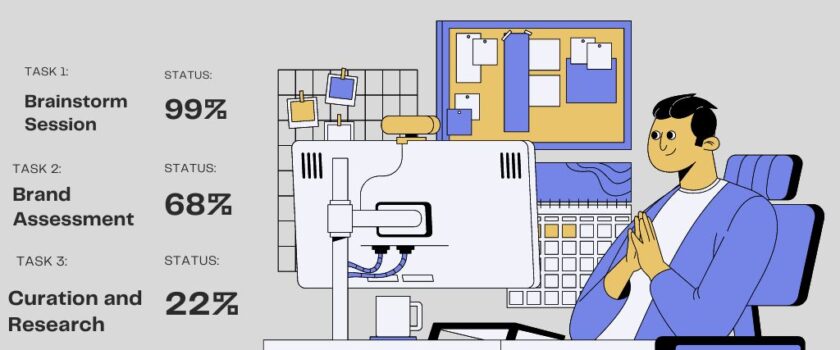 When discussing IT occupations, one profession that is constantly emphasized is project management. Project management is the application of techniques, methods, skills, and knowledge to meet specified project objectives. Professionals in the project management plan and organize a company's resources to execute a given job, operation, or obligation; an assistant project manager is an example of such a qualified professional.
An Assistant Project Manager assists and works alongside the Project Manager in planning and executing projects for a corporation. The duties of an assistant project manager may vary in different settings and environments but always cut across identifying the project needs and goals of customers or stakeholders. Their role may include developing a thorough strategy to effectively execute a project and collecting and storing project reports and documentation.
An assistant project manager is sometimes assigned to a project under the supervision of an experienced project manager. This will help them get the needed project management experience to take on their projects.
Most of the time, the assistant project manager role is an entry-level role. In addition, these professionals have project management education. They are also likely to progress into project managers upon acquiring a certain level of industry experience.
When considering the project manager role, there are typically two paths to take; either take the "conventional" approach, which entails setting out to become a project manager, earning a certification, and working as a project manager, or gain project management experience by working as an assistant manager and working your way up for a career progression into the project management role, as previously stated.
What Are The Duties of An Assistant Project Manager?
They assist with project planning and execution.

They communicate with project stakeholders on project specifics and deliverables.

Assistant project managers work directly with project managers to oversee all areas of projects while also giving direct support to guarantee project completion on time.

They also maintain project timelines and efficacy by coordinating with the project lead and other project managers.

Assist in the coordination and management of project activities and deliverables.

Provide data analysis when needed.

Perform administrative and procurement tasks such as scheduling meetings, acquisition of materials and other items required to complete project objectives.

They carry out additional activities delegated by the Project Manager in a timely and effective way.

Coordinate with project managers and other project leads at every project.
Qualification of An Assistant Project Manager
The minimum educational requirement required for an assistant project manager is an associate's or bachelor's degree in business, computer science, management, or a similar discipline. However, some hiring managers may look for prospective candidates with an MBA or a master's in management or any related discipline.
At least a high school diploma or GED with a project management certification is sufficient to land you a job, although not common. It is important to note that the requirements of an assistant project manager are less stringent than those of a project manager.
Industry-specific certificates and licenses are an added advantage. It will also help you strengthen your resume and make you more appealing to hiring managers.
A Project Management Professional (PMP) certification is a fantastic certification to start with. At least 35 hours of study and hands-on experience are required to complete the PMP certification. You would also take a test upon completion of the course, which is a written or oral test.
The other two more significant certificates an assistant project manager can take on are:
Advanced Project Manager Certification (APMC)

Certified Project Manager (CPM).
The Certified Associate in Project Management (CAPM) is an entry-level project management credential for people in the project management field. 
Important Qualities Needed to Become An Assistant Project Manager
Ability to adapt and stress management skills.

Computer and mathematical skill set.

Time management and organizational skills.

Leadership and problem-solving skills.

Great communication skills.
Salary and Career Outlook
While there is a considerable need for assistant project managers, the position also pays much more than other jobs in the labour market. Furthermore, the professional path provides a range of work schedule options, including hybrid, remote, onsite, and freelance work modes.
At vizajobs, we make it easy and safe to find your next project management role and other tech jobs across the US, the UK, Canada and Australia. To serve our users better, we painstakingly validate the legitimacy of all businesses and jobs on our platforms. Click here to get started. 
The average Assistant Project Manager's salary in the United States is $64,500, but typically the salary range falls between $54,186 and $83,715. Salaries vary widely depending on many important factors, including education, certifications, additional skills, and the years you have spent in your profession.
According to a PMI survey, more industries will see the most rise in project-oriented employment.
Project Management Vs Product Management
One of the most common career mismatches is in the project and product management career path. While both fields may seem similar, there is a distinct difference between them. To completely comprehend the difference between these functions, one must first establish the difference between a product and a project.
What is a product?
In technology, a product is a development or service sold to a market or users to solve a problem or satisfy a demand or need. These could be in the form of mobile and web applications, and so on.
What is a project?
A project is a short-term activity that is carried out to develop a one-of-a-kind product or service. A project has a precise outline and deadlines.
From the definitions, it is clear that both functions are intertwined. A product is only developed within the framework of a project, and numerous projects can occur within the life cycle of a product.
However, unlike a project, there is no precise specification for the development of a product because products are likely to evolve to meet the customer's needs.
Related Article: Product Manager vs Project Manager
Furthermore, while project management is an activity with outlines and deadlines, there are no clear deadlines or end dates for product management. In addition, project management is a temporary activity; product management, on the other hand, is a continuous process
In conclusion, as earlier stated, project management is the application of techniques, methods, skills, and knowledge to meet specified project objectives. Product management, on the other hand, is a company's organizational function that deals with the planning, production, and marketing of a product.