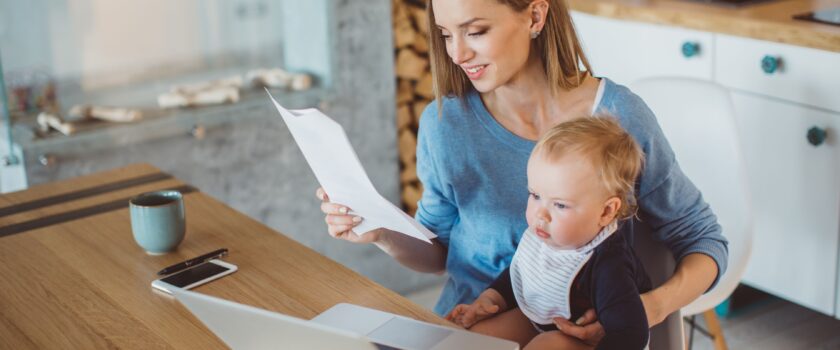 As a new mom it is expected that you'd be on the lookout for easy part time jobs with flexible hours. One that isn't too tough and also allows you to have adequate time to spend with your family and new-borns.
In this case, some may advise you to look out for remote job opportunities. While on the other hand you might feel like getting out of the house, catching a bus or the train might be better for you just cos you're tired of sitting at home and in search of some excitement. Either way, there are a wide range of easy part time jobs you can always select from.
Naturally, you might want to question what level of qualifications or requirements are needed for these jobs. Not to worry, there are lots and lots of easy part-time jobs readily available for moms at different levels of their professions or careers.
Why You Should Consider an Easy Part Time Jobs as a New Mom
Dear new mom, getting back into the workforce after that long maternity stay at home period is one big decision. Reasons why there are quite a number of factors you should consider before jumping on the boat. This is because whatever decision you take now, would either directly affect your family or indirectly influence decisions that affect your kids and family at large. Worry not, there's no cause for alarm so long you factor in the following before making that big decision. 
Your Current Daily Schedule
Considering your current daily schedule and how many hours you can spare, plays a huge role in searching for easy part time jobs. Well here's why:
Let's journey into Frankie's life. Frankie happens to be a new mom and is aged somewhere in her late twenties. Just like you and every other new mom out there, she feels it's high time she got back into the workforce. However, her new situation (new mom struggles) presents her with some conflict. The challenge here is that she can only work the hours between 12noon and 4pm. At time before or after that time frame she's got to be home with her kiddo.
Juggling up being a mom and a career woman at the same time can be a whole Lot! You definitely do not want to  experience burn out the moment you start working. 
Would you rather go for an on-site opportunity or the remote opportunity? If you seem to be in the same shoes as Frankie, I'd certainly advise you look for an easy way out, which is the remote option. Your best bet would be easy part time jobs that grants you the luxury of working from home such as those HERE. This is because as much as you want a job, you would need to deliver efficiency. Efficiently would be nearly impossible under such a tight time frame if you'd be journeying a very long distance to and fro your workplace. 
If you'd like to learn more about the pros and cons of different working options, click here. 
Top Easy Part Time Jobs to Lookout for
Research statistics have proven the following easy part time jobs to be the best fit for new moms.
Average Pay Per Hour: $16
For numerous years, the phrase "virtual assistant" has been bandied about as some vague concept that no one could truly grasp. A Virtual Assistant, or VA, is a person who works remotely for a company or entrepreneur to complete duties. These responsibilities can range from social media administration to ghostwriting, diary management, and phone answering. A virtual assistant is similar to Siri, Alexa, or even Jarvis from Iron Man. The distinction is that this is a real person doing real things. However, the principle of asking someone you can't see to help you accomplish something is the same. Reasons why it's ideal for a new parent looking for easy part-time jobs.
Average Pay Per Hour: $15-$20
Due to technological improvements, online tutoring is becoming more popular, and it's a great way to earn money from home if you have previous teaching experience or subject knowledge. Tutors help students with a variety of subjects by offering educational support and guidance. You also get to choose your most convenient times. Although some work-from-home tutors have students come to their homes in person, many provide their services via video conferencing software.
No average pay per hour. Traffic on your blog determines how you get paid for adverts.
Because blogging is one of the most flexible occupations you can have and the earning potential is endless, it is the most popular online stay at home mom career.
Blogging is the finest stay-at-home career for mothers with young children since it allows you to generate passive income. When people read your writings, you earn money from advertisements. Similarly, your blogging content brings in money from the day it is posted till you take it down. When a large number of people read your writings, you earn good money. Easy right?
Average Pay Per Hour: $10-$20
Transcribers are people who listen to audio files and type down what they hear. Consider transcribing if you have patience, the capacity to sit for lengthy amounts of time, and a keen eye for detail.
This is yet another wonderful easy part-time work from home opportunity for new moms because you may choose your own hours as long as you can meet your deadlines.
Average Pay Per Hour: $10
Do you have exceptional communication abilities? As a virtual receptionist for individuals and businesses, you can work from the comfort of your home. Receiving and making calls to clients, arranging appointments, making travel arrangements, organising contact lists, and much more are all tasks that a virtual receptionist is responsible for. Virtual receptionists must have excellent customer service and interpersonal abilities. This is a great career for people who enjoy chatting and meeting new people.
If this role suits your interest, kindly click here to get started.
Dear new mom, you'll be surprised at how much money you can make from your easy part-time jobs if you can commit to personal and professional development and be self-disciplined enough to designate "office hours" where you can devote the time and effort into your career.