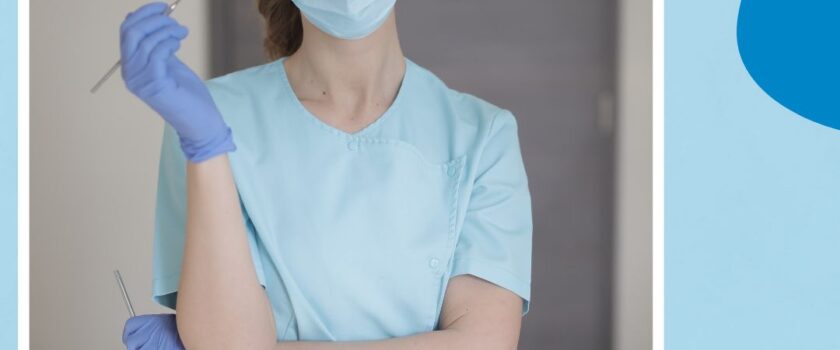 Most people often confuse the role of dental assistants with dental hygienists. Both dental assistants and hygienists care for the needs of dental patients. However, there is a distinct duty in both careers that may also include the salary range, and educational and licensure pathways. While this may be a discussion, the dental assistant vs dental hygienist has mostly sparked conversation amongst prospective job seekers surrounding the pay grade.
Before we delve into that, let's take a look at both careers.
Who is a dental assistant?
Dental assistants are members of the dental team. They perform several roles like patient care, office, and laboratory duties. Additionally, they work alongside dentists to examine and treat patients. 
Who is a dental hygenist?
A dental hygienist is a licensed dental professional who works as the right-hand man of the dentist. Unlike the dental assistant, a registered dental hygenist can work independently or with other dental professionals to provide oral health care. To summarise, a dental hygenist profession is higher than a dental assistant profession and less than a dentist.
The two professions can work in a variety of settings, including private dental clinics, public health clinics and physician clinics, but only the dental hygenist can practice independently.
Dental Assistant vs Dental Hygienist Salary
In the United States of America, the average salary of a dental hygienist as of 2023 is $91,979 annually. The hourly rate is $44.56. 
Typically, the average salary range usually falls between $68,486 and $123,531 yearly. 
While the average salary of a dental assistant as of 2023 is $68,540 annually. The hourly rate is $20.80. Typically the average salary range usually falls between $47,391 to $99,125
The salary of both jobs depends on many factors, including education, certifications, additional skills, and years of experience. For example, in California, where there is a high demand for competent healthcare and dentistry professionals, the salary of both professions is higher than in other states. 
The average salary of a dental hygenist in California is $109,970, while that of dental assistants is $43,280.
How do you become a registered California dental assistant?
To become a dental assistant in the United States, you must complete a dental accredited program or complete a course of study at a technical or community college.
You can also be a dental assistant through years of experience in dental assisting programs. It may take a year or less to complete enrollment in a Regional Occupational Programs (ROP) course.
A high school student who completed subjects in Chemistry, Biology and health sciences can also become a dental assistant.
How do you become a registered dental hygenist?
To become a dental hygenist, a person will need either an Associate's or bachelor's degree in Dental Hygiene from an accredited college or university. They also have to register with a dental association or regulatory body within their country of practice.
In the United States of America, Dental hygienists must hold an educational qualification approved by the American Dental Association. Dental hygienists in the United States must also obtain licensing from the State they practice in. They must have also passed a written board known as the National Board Dental Hygiene Examination or a clinical board exam before getting licensed. After completing these examinations and obtaining their licences, dental hygienists may use the letters "R.D.H" after their names to indicate that they are now licensed, dental hygienists.
Related Article: Dental hygienist salary and Outlook
Licensing rules for a dental hygienist and dental assistant in the United States
Licensing requirements for dental assistants vary by state. Some states require dental assistants to earn nationally-recognized certifications through the Dental Assisting National Board (DANB). 
See: Dental assistant salary in California and licensing procedure
However, unlike dental assistants, licensure is required by all states for dental hygienists. Each state has unique requirements for dental hygienists as determined by the state's board of dental examiners.
Additionally, CPR certification is required for employment for both dental hygienists and assistants by most clinics.
The distinct job description of a dental hygenist and dental assistant
Dental assistant:
Dental assistants offer dental and administrative care to patients, as well as clinical assistance to dental hygienists and dentists.
They also interact with patients from the minute they walk through the door, assuring patient comfort, preparing the room for dental operations, sterilising equipment, and passing instruments to dentists or dental hygienists throughout patient procedures.
Dental assistants conduct administrative responsibilities including appointment scheduling and invoicing and payment inquiries.
Dental Hygienist:
The primary responsibility of a dental hygienist is patient care. They clean and polish teeth, conduct examinations to detect and treat oral disorders including gingivitis, and provide basic oral cancer screenings.
Before the examination, they are responsible for assessing patients' overall oral health and delivering oral summaries to a dentist. 
Dental hygienists counsel patients on the best types of oral health tools for their specific needs and educate them on proper brushing and flossing homecare techniques to promote good oral health practices.
Why you should consider a career in Dental care
If flossing is at the top of your priority list, or if you have a natural talent for oral hygiene and other people's dental cleanliness, you should look into these occupations.
Both positions are fantastic options for persons wishing to shift careers. While on the job, it is also critical that you portray a cheerful and approachable manner.
While dental assistants are expected to rise by 14% by 2029, dental hygienists are expected to expand by 10% by 2029.
Choosing a professional path is a big decision. If you enjoy working directly with dentists and aiding with vital treatment that benefits people, a dental assistant may be an excellent choice.
A dental hygienist, on the other hand, might be a great career choice if you appreciate the possibility of working autonomously. Additionally, if you have the finances to complete a 2 -4 year college programme, the dental hygenist might be a great choice.