We've returned to the age-old dispute between product owner vs product manager.
Who is the person in charge of product development? Is it possible to have one without the other? What is the true distinction between these two product management responsibilities, and how do they impact the end product?
It's a fascinating question, and one that will take some time to answer. Let's take a look at the origins of these names and disciplines, as well as some typical frameworks for explaining them.
The product manager is a high-level, holistic position with responsibilities that span the full product lifecycle. From customer discovery to product delivery, we've got you covered. The product manager steers the product strategy by gaining a thorough grasp of the customer's demands, the product, and the market as a whole.
I asked someone what the term "Product Owner" meant the first time I heard it. They explained that it was the same as a Product Manager, except that it was a Scrum phrase.
Are Product Owner VS Product Manager the Same?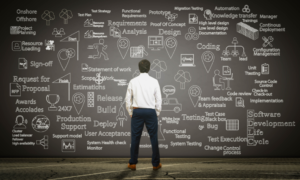 The term "product management" was first used in 1931. In the 1940s, Hewlett Packard was one of the first technology corporations to use this work and organize itself by goods. Product Managers have been present in most Silicon Valley organizations since the beginning. So, while this discipline is not new, it is fast evolving as more businesses transition to software organizations and begin to structure themselves around products.
Related: History of product management
The product owner, according to Roman Pichler, is a product management role. Smaller and younger firms, particularly in the software industry, can hire a product owner to quickly establish a role responsible for the product's development without needing to hire a product management team, he says. However, Pichler believes that in the long run, these companies should develop a separate function for a product manager.
In other words, product owners and product managers are not interchangeable terms. Rather, they are two distinct functions.
Due to a shortage of resources, some firms may have a product owner who also handles the more strategic responsibilities of a product manager. Each of these jobs has a distinct focus, and each is a full-time position.
Product Owner VS Product Manager: Distinctions
The distinction between a product owner and a product manager is significant. While there is some overlap, they are both defined in very different ways.
Product Owner
Product Manager

Focus

More focused on the details. Focus on the short to medium term.

Very well-planned. The product's grand vision. A concentration on the long term.

Responsibility

Increasing the efficiency of the development process.

Creating an actionable backlog from the product vision.

In front of the development team, advocating for the interests of the clients.

Visualization of the product

Discovering the needs of the customer.

Alignment of the teams

Prioritization of features

Owns

User tales

Backlog 

Epics

Product roadmap

MVPs

Success metric

Stories that are finished.

Other measures relating to the development team's performance.

NPS (product)

Transforms (product)

Profits (business)

Churn (business)
There are some parallels between these functions, as you can see. Both jobs, for example, guide the product through the development process and collaborate with multiple of the same teams within the company.
A PO may fill some of a PM's more strategic roles, and vice versa. However, in a normal agile organization, the team will have both product owners and product managers, each of which is responsible for a different set of functions.
A product owner can be thought of as a more tactical, internal-facing version of a product manager who helps keep a product's growth on track in an agile organization.
Do You Need Both Roles?
Several factors influence whether a company needs both a product owner and a product manager.
Is it better to choose one or the other, or both?
Instead of focusing on the titles that will be used, the fundamental question concerning what a company needs is what the desired product outcome is. Prioritizing business value comes first, followed by evaluating the product management team's roles and processes to aid in achieving those objectives.
Structures and processes are frequently constructed into a corporate system that becomes inflexible and unable to adjust. A review of who is currently doing what jobs, the hurdles that must be solved, the overall decision-making process, and the final aim are all required.
When all of these issues have been evaluated, solved, and prioritized, the company's operations become more clear. You'll be able to observe where there are issues, delays, or poor product management. You can discover that there are new ways to adapt to the product management framework.
Product ownership or management can be a hybrid employment that combines both, as well as product marketing and other aspects.
Note that:
You are still a Product Manager if you remove your Scrum team and Scrum as a process for your firm. Scrum and Product Management work well together, although Product Management is not reliant on Scrum. Any structure or process can and should have it.
Your roles and responsibilities as a Project Manager will differ depending on your situation and the development of your product. You might be conducting more strategy and validation work with problem discovery in a product that hasn't been defined yet if you don't have a Scrum team or if you have a smaller team. Similarly, you might be more focused on the execution of solutions if you work with a Scrum team. You can be driving strategy for a larger section of the product as a manager of Product Managers, and mentoring your teams to identify and execute well.
In Conclusion:
So, will the ship be piloted by a product owner or a product manager? Who will lead the team as captain? It all relies on the type of vessel that must travel. You'll have the right captain if you find the appropriate people with the proper skills.
Product owners and product managers are valuable assets. However, company goals, consumer needs, and priorities should determine final input. While it's critical to define product management duties, you'll also need to adapt.