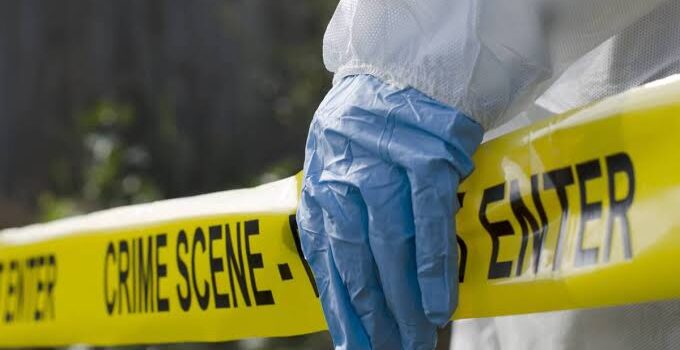 Crime scene cleanup jobs are mentally and physically difficult. You will be exposed to highly sensitive, emotional, and, on sometimes, graphic situations as a crime scene cleanup technician. The job is physically demanding since our technicians must wear full personal protection equipment (PPE) during the cleanup to limit their exposure and protect themselves from risks that could cause injury. Our specialists come from a wide range of professions, including construction and restoration, as well as first responders, police enforcement officials, and customer service personnel. They all have one thing in common, though: a genuine desire to assist others who are suffering after a tragedy by assisting with cleanup.
What Crime Scene Cleaners Do
A Crime Scene Cleaner is similar to a highly trained Housekeeper. You wipe down walls, steam carpets, and mop floors as a Crime Scene Cleaner, just as you would as a standard House Cleaner. The difference is that you're called in when a murder, suicide, or drug lab is discovered, so you clean in hazmat gear and with a lot of bleach.
Since human remains and medication compounds can cause illness months after they've been removed, your cleaning must be meticulous. Instead of merely cleaning a carpet, you may tear out the flooring to guarantee that no blood got into the ventilation system.
Prepare to witness some terrible scenes. Despite the fact that crime scene cleaners might earn a lot of money, most of them don't stay in this job for very long. Not only does seeing a dead body (or pieces of a dead body) shock you, but you also have to deal with the victim's family.
They usually live in the house you're cleaning or are nearby, attempting to make sense of the crime. As a Crime Scene Cleaner, you'll need both a strong stomach and a lot of compassion.
Requirements for Crime Scene Cleanup Jobs
At work, you are likely to come across a wide range of unfortunate and unpleasant situations. Crime scene cleanup professionals are trained to provide exactly the right amount of comfort and assurance while staying professional and focused on the job at hand.
Crime scene cleanup technicians are like "second responders" that are ready to help when a family needs their services. They must be willing to provide emergency response service 24 hours a day, seven days a week, 365 days a year.
Cleaning up a crime scene is strenuous labour, so our technicians must be able to work while wearing hazmat suits, full face masks with respirators, and multiple pairs of gloves.
To be successful on crime scene cleanup jobs, you must first and foremost display substantial attention to detail, problem-solving skills, and a willingness to follow established regulations and procedures.
Interpersonal communication: 
To communicate effectively with clients, crime scene cleaners need to have interpersonal communication abilities.
Clients entrust crime scene cleanup technicians with their homes, their personal belongings, and their safety. As a result, all professionals on crime scene cleanup jobs must pass a background check, a drug test, and have a clean driving record.
For crime scene cleaners to do their tasks safely, they must understand how to deal with biohazards and other dangerous items.
Outlook for Crime Scene Cleanup Jobs
The job of a crime scene cleaner is not like any other cleaning job. You'll spend 9-10 hours cleaning one site on average. You must be able to lift at least 50 pounds with ease because the job often requires significant physical labour.
You might work irregular hours as crimes can occur at any time of day. Furthermore, the police and CSI may not be able to get to the scene right once. However, once the evidence has been gathered, the site must be thoroughly cleaned. You'll have to be ready on-call at all hours of the day because most crime scene cleaners don't have a defined schedule. This means that you must be able to show up for work at any time.
Make sure you can adjust to an erratic schedule before taking this job. For example, people with children might need to have arrangements for their care in case of impromptu 
Crime scene cleaners' salaries vary, however because of the unique skills and training required for crime scene cleaners, they may earn more than comparable cleaning positions. Hazardous material removal workers, a similar occupation, earn an average of $45,270 per year, according to the United States Bureau of Labor Statistics (BLS). Hazardous material cleaning jobs are expected to expand 8% between 2019 and 2029, according to the BLS.
I recommend you have some training before taking on any crime scene clean up jobs. Biohazard handling training, personal protective equipment training, and pathogen training are all useful training and certification programs for crime scene investigators. These trainings ensure you perform well on crime scene cleanup jobs.
Where to Find Crime Scene Cleanup Jobs
While many respectable businesses hire crime scene cleanup specialists around the country, the lack of industry regulation has made it easy for shady businesses to provide their services. Do some research on a company before applying to check how long they've been in business and what their clients think of their job. You boost your chances of landing a crime scene cleanup work by applying with respected companies.
Keep in mind that not all crime scenes are equally tense. Cleaning carpets, scrubbing walls, cleaning furniture, and blowing out strong odours will take up the most of your time. You can expect to clean blood, body parts, and possibly even other nasty bodily fluids. A crime scene cleaner's purpose is to make the crime scene as clean as possible so that people can live and work there again.
If you appreciate variety in your experiences and lifestyle or enjoy travelling crime scene cleanup jobs might be for you. Do you enjoy the camaraderie of a team? Is your schedule flexible and are you customer-focused? We have a number of crime scene cleanup jobs available.