You just graduated!!!! Congratulations!!!! First, I want you to know that you are not a criminal for looking up entry level work from home jobs. 
Like I said, you just graduated, so take it easy on yourself. This is the time you need entry level work from home jobs because this is when you gain experience needed to excel in your chosen career field. Just like always, your beginner friendly fairy mother is here to save the day. We would be dissecting entry level work from home jobs as well as how to tell what job is fake or legit. Please grab your popcorn, sit back, and enjoy yourself as we journey to the underworld of entry level work from home jobs.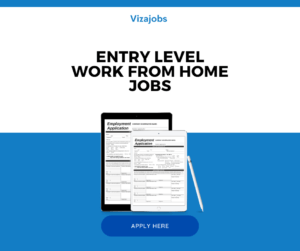 Types of Entry Level Work From Home Jobs? 
Average annual salary: $48,300
An administrative assistant is typically a crucial part of a firm, taking on responsibilities that executives and managers don't have time for. These positions may demand more program knowledge than a virtual assistant, but they may also pay significantly more. 
Many administrative assistants can now work totally online on a full- or part-time basis in an increasingly digital world. (However, not every administrative or executive assistant's responsibilities are solely online, so check the job description carefully before applying!) Although you may typically get one of these professions with just a high school diploma, some companies may prefer that you have a college diploma.
Average annual salary: $55,000
As a tech support professional, those who are technically inclined and adept with computers and the Internet may be able to work from home. Customers will troubleshoot problems, lead them through solutions, and explain difficult technology in an easy-to-understand manner in these positions.
Average annual salary: $69,350
Customers or clients are generally assisted by travel advisors or coordinators in making travel arrangements. Travel arrangements, hotel reservations, and auto rentals are all standard tasks. You can qualify for a remote travel consultant position if you have good people skills and the ability to quickly learn new software tools.
Average annual salary: $38,400
Data entry workers ensure that vast amounts of information and data are processed quickly and efficiently. The majority of online data entry jobs can be completed from the comfort of your own home. Data entry positions entail inputting data into a computer system or into a secure file system, as well as performing other clerical tasks.
Many organisations may recruit full-time, part-time, or freelance data entry clerks or keyers with only a high school diploma and no work experience. This is a frequent work-from-home job because so much of the data and information that firms now process is digital.
Average annual salary: $38,900
Companies that produce substantial amounts of written material need copy editors to work part or full time. You'll need a good grasp of English spelling and grammar norms, as well as a sharp eye for detail, to become a copy editor, and you should expect to undergo a skills exam before getting recruited. Copy editors frequently, but not often, have English, communication, or related degrees, however copy editors and proofreaders can work without prior professional experience in some circumstances.
Average annual salary: $55,200
There are several content writing jobs accessible to entry-level workers coming out of school if you have a decent command of the English language and the ability to synthesise information, describe a product or service, or research themes to write about.
Writing is a skill that comes effortlessly to many people, and it's a popular work-from-home option. You may earn money from home by writing blog posts, articles, social media content, and more. Knowing a specific industry, such as real estate, education, fashion, or finance, can help you find a writing job even faster.
Average annual salary: $59,600
Social media managers help manage social media accounts. A social media manager is in charge of planning, creating and scheduling posts across social platforms. This may also include from writing copy and creating graphics for these posts. Other responsibilities may range range from responding to audience comments, monitoring social performance, and implementing social media marketing strategies.
Remote social media manager positions are available for a variety of organisations, ranging from small businesses to large organizations. They can be full-time, part-time, or freelance.
Additionally, if you want to work as a social media manager, you'll need to show that you understand the intricacies of various social platforms especially Facebook, Twitter, and Instagram. It'll also help if you can show examples of successful accounts you've managed, whether your own or someone else's. You will also stand out if you have strong writing skills and some data analytic skills.
Customer Service Representative
Average annual salary: $59,300
Customers frequently require customer service representatives to assist them over the phone, via email, or through online chat facilities. Being a remote position, it requires communication skills, typing abilities, and the ability to calmly address customer complaints.
Average annual salary: $49,800
Indeed, tutoring is an opportunity to share your knowledge and earn money from home. Remote tutors communicate with students via video or chat using internet platforms. This type of position will necessitate a teaching ability. If you have enough understanding of a subject, you might be able to make a living as a remote instructor. It is a skill useful during the pandemic. For example, companies including Achieve Test Prep, Crimson Education, Elevate K-12, Fluent City, Pearson, and Study.com provide remote, entry-level tutoring employment.
Average annual salary: $53,200
This entails translating spoken files, using video to interpret remotely, or cleaning up translated files are part of responsibilities on the job. There are interpreter jobs available that do not require any prior work experience.
There are a variety of entry level remote jobs that are legitimate and pay well in exchange for your time. However, there are also many scammers posing as respectable internet jobs.  We also have actual jobs that pay so little aren't worth your time or effort.
You know the job is a scam when its too good to be true.  you don't have to do much to get paid. Any employment that advertises itself with phrases like "work five hours a week and earn $1,000" should be avoided.
Search entry level work from home jobs on VizaJobs to be sure you're applying to authentic positions with legitimate companies.