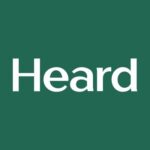 Heard Technologies
About the Company
Unlike most small businesses, providers lack the tools and systems needed to understand the ins and outs of their business.
Instead, they're forced to work with a disparate array of expensive services or contractors to manage their finances, their taxes, their payroll, their savings and more. Not only is this outside their area of expertise — every hour spent wrangling finances or filling out forms is one less hour spent providing care.
Heard
 is growing incredibly fast. We have a clear, funded path, and a roadmap to become an industry leading software services provider for independent mental health practitioners. We are looking for the hardest workers in the room, who love working collaboratively to solve novel problems, to join the Heard.