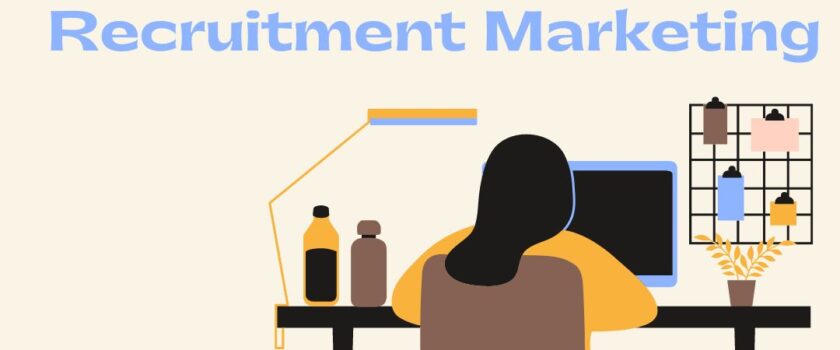 Since the twenties, the employer branding vs recruitment marketing debate has been a major topic in the recruiting phase and HR sphere. Companies are investing more resources in employer branding and recruitment marketing because the competition for top talent is increasingly fierce. To understand why these terms are significant, we must first know what they represent.
What is Employer Branding?
Employer Brand is an individual's organization's reputation to present their firm as a desirable employer capable of attracting high-quality candidates.
Employer branding may also be described as the external representation that attracts active candidates and converts passive candidates into applications.
Another interpretation is that employer branding is concerned with how a company is perceived within its organization by its employees before marketing to prospective employees. This would include its corporate mission, vision, and goals and its influence on its workers, customers, and society.
What is Recruitment Branding?
Recruitment Marketing is the process of promoting your employer's brand through various channels such as social media, a company's career site, job boards, and many others to hire top talent.
One crucial component in recruitment marketing is investing time into sites that provide excellent applicant experience. These sites provide the company with appealing material that is engaging and relevant to the company's brand and culture.
Employer Branding Vs Recruitment Marketing: The Differences Conversation
HR professionals need to understand the various terms, their differences, and how to apply them.
Employer branding is about defining the employer brand (internally and externally), and recruitment marketing is promoting the employer brand through various recruiting channels.
Another notable distinction is that, whereas recruitment marketing appears to develop with each shift in trend, employer branding remains consistent. HR should note that employer branding remains consistent as it aligns with the company's mission and vision of the company. However, recruitment marketing should evolve according to the result of each recruitment. It also should obey and adjust to the trends, innovations, and modern standards of recruitment.
Although the terms are not interchangeable, there is a link between them. Employer branding can exist on its own. However, recruitment marketing is based on employer branding and cannot function independently.
What Are The Main Component of Employer Branding?
Here are some of the actions to follow to ensure that your organization has the desirable employment branding:
Defining The Company's Employer Brand:

 Ensure that your company's mission, vision, values, and uniqueness are true to your brand and represent its concepts.

Defining The Employee Value Proposition (EVP):

 This refers to the incentives, bonuses, and rewards that a company is willing to offer its workers. Rewards and benefits may include team motivation, 

401k benefits

, and many others that may all contribute to your employer branding.

Defining The Company's Culture:

 These company cultures should also reflect in the company mission, vision, and values. They should also be made necessary for workers and, to a lesser extent, the company's clients.

Defining Candidate Personas:

 this refers to your worker's goals. Ensuring that your workers' goals align with those of your firm, as this impacts your employer branding.

Maintaining and Managing The Company's Reputation: 

This relates to how you assimilate and respond to employee and client feedback while defining and disseminating essential concepts.
What Are The Main Component of Recruitment Branding?
Here are some recruitment marketing strategies for acquiring top people and building an employer brand:
Communicate with your candidate and encourage engagement through your company's career website or job boards, such as 

Indeed

 and 

Glassdoor

. You may also create email campaigns, newsletters, and a list of others.

Write concise and appealing job openings material that emphasizes growth and possibilities. You may also list the benefits, rewards, and remuneration they would get from working with your organization.

Create interesting brand content. You may, for example, offer the perspectives of your present employees, produce videos about your workplace, and promote corporate events and activities.

Use storytelling to build trust with candidates and create awareness about your brand via social media, blogs, and websites. Your storytelling should focus on growth opportunities and career boosts in your company; this ensures that more people dream about being employed with your organization or patronize you as a company.
Importance of Employer Branding
One of the ample proof of the relevance of employer branding is that it makes recruitment easier. Employer branding guarantees that your company attracts the best talents for job openings at your establishment. For most companies, such figures equate to millions of dollars in savings and reduced recruiting time.
According to a LinkedIn survey (the SMB Employer Branding Landscape), 75% of job seekers evaluate a company's reputation before applying for its job opportunity. 52 % of job seekers visit a company's website and social media to discover more about a firm before sending their job application. 
The same survey conducted by Linkedin noted that 72% of recruiting leaders worldwide agreed that employer
branding has a significant impact on hiring.
Another benefit of Employer Branding is its capacity to increase the three most essential hiring metrics: time-to-hire, cost-per-hire, and quality-of-hire.
Importance of Recruitment Marketing
Posting your job openings to the job boards and waiting for the talent to come to you is not enough anymore; you will need recruitment marketing to give your company a competitive advantage over other companies looking for the same talent.
As a recruitment marketer or an Hr professional, you should have the following checklist to improve your recruitment marketing:
What type of content interest my ideal candidates?

Are our job postings Google-optimized and searchable?

What Social Media platforms would my ideal candidate spend their time searching for jobs?

What kind of company's project posting would attract them?

Is our job openings application an easy process?

What employment advantages or incentives would interest them?

Are our current workers promoting their jobs and brands?

Does our career site answer all the questions candidates may have?

Would prospective candidates be interested in reading about existing workers' professional successes?

Do they prefer employees' or C-level executives' testimonials?

Does video engage them more?

What do I have to offer that their current employer doesn't?
Conclusion of the employer branding vs recruitment marketing:
To be successful at a business, your company will need both employer branding strategy and recruitment marketing strategies.