Bengaluru, Bangalore North, Bangalore Urban, Karnataka, India
Member Since 2022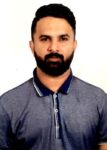 Vishwas MN
About the Candidate
Hands on experience on Testing methodologies, Test Plan document.
Developed Smoke, Sanity, Functional, Regression, Integration test cases.
Proficient in automation framework.
Design, Develop and execution of performance tests with Selenium Grid and JMeter.
Development of Automation tests using Java, WebDriver, TestNG.
Created tests for REST API calls using Java.
Worked on AWS Cloud application and relational database MySQL.
Proficient in SQL queries.
Capture and publish Code coverage metrics from Clover against automated cases.
Worked on Continuous Integration tool Jenkins CI server.
Execution of WebApp Security tests using OWASP ZAP tool.
 Experience in Agile process which adhere to ISO 9001:2015 guidelines.
Used git, BitBucket for version control and for code review.
User story, defects and documentation are maintained in Jira, Confluence.
Working on Accessibility testing using Level Access tools.
Implemented API testing using REST Assured, Cucumber.
Experience
08-Apr-2011 to 23-Sep-2015
Symphony Teleca Corp. India
Senior Product Engineer QA
01-Oct-2015 to 10-Dec-2018
ThermoFisher Scientific, India
Engineer 2, Software Test
12-Dec-2018 to till date
Sabre Travel Technologies, India
Senior Software QA Engineer
Skills
Automation Testing
JAVA
JMeter
Manual Testing
Performance Testing
Security Testing OWASP ZAP
Selenium
TestNG