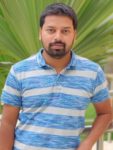 vijay ande
About the Candidate
Vijay Ande
C#.Net/Python/Azure Developer
Hyderabad, India
• +91-8142455755 • vijayande2009@gmail.com
Personal statement
Over 9+ years of experience in designing, developing and managing Desktop, Internet, Cloud and Big data projects using Microsoft C#.NET, Python, Angular/Vue.js and Cloud platforms in various domains. Developing solutions to streamline Developer and Operations (DevOps) process. A self-motivated, proactive, realistic and collaborative individual that strives to deliver solutions of the highest quality and exhibits an excellent attention to detail. Recent achievements with my current employer include "Automating model checking tasks for the Engineers so that they don't have to spend time doing it manually" using latest tech stack such as "Azure/AWS, C#.Net/Python & DevOps CI/CD."
Key Skills
§  Microsoft Technologies:
o   .Net Framework, Asp.Net, .Net MVC, WCF
§  Programming Languages:
o   C# 7.0, Python 2.7/3.0
§  Open-Source JavaScript Frameworks:
o   Vue.js, AngularJS
§  Web Development Tools:
o   Microsoft Visual Studio, Microsoft Visual Studio Code
§  Version Controls:
o   Git, Bitbucket, SVN
§  Cloud Technologies:
o   Azure (Azure Big Data, Azure DevOps), AWS (S3, EC2, Lambda, Cloud Formation, ECS, ECR)
§  Development Platforms:
o   Windows, Unix, Linux
§  Databases:
o   SQL Server, MySQL, Postgres SQL, Oracle
§  Search Engine:
o   Elasticsearch 7.0.0
§  Open-Source Web Frameworks:
o   Django, Flask
§  Other Tools:
o   Jira, Trello
§  Agile Framework:
o   Scrum
§  Containerization:
o   Docker, Docker Compose
Employment History
Arup
(March 2016 – Present)
Senior Software Developer
BIM Design Automation
Achievements and responsibilities:
§  Work on different parts of the software such as: backend, frontend, deployment and testing.
§  Active participation in Design and Architecture of the project
§  Develop database queries and stored procedures as per the business needs using MSSQL and expose the functionality as RESTful APIs
§  Develop & maintained automated CI/CD pipelines for code deployment using Jenkins and Azure DevOps for one click deployment
§  Maintain Git workflows for version control (Source Code Management)
§  Built and deployed Docker containers for implementing Microservice Architecture from Monolithic Architecture
§  Providing effective guidance Supervise to team members & junior staff
Capgemini
(Oct 2012 – March 2016)
Consultant
BIM Dashboard
Achievements and responsibilities:
§  Implemented in modelling of huge data datasets of 3D building models using Azure Data Lake
§  Designed pattern recognition Machine Learning Algorithms to identify models/datasets based on multiple parameters
§  Developed U-SQL queries to extract data from Azure Data Lake
§  Designed tool to import huge data from on premise to ADL
§  Designed and developed unified Dashboard using MVC and hosted on Azure App Services
§  Create technical documentations such as Use Case, Sequence diagrams & high level and detailed level design document based on business rules and manuals for the operations team
Computer Sciences Corporation
(May 2010 – Sep 2012)
Consultant Application Developer
E-Commerce Marketplace Analytics
Achievements and responsibilities:
§  Lead a team of 3 members involving aggregation of data from multiple third-party sources into a Hadoop clusters
§  Performed extensive analysis of huge data sets using PIG and Hive on ad-hoc basis
§  Developed scripts for maintenance and continuous processing of data using PIG
§  Ingest data from different data sources into Hadoop cluster and create Hive tables on top of it for easier data analytics
§  Manage individual project priorities, deadlines and deliverables
SemanticSpace Technologies
(May 2008 – July 2009)
Software Engineer
DEXO-Credit Data
Achievements and responsibilities:
§  Designed tools to analyze complex data feeds from DEXO acquisition and diffusion platform from Standard & Poor's and Fitch
§  Implemented shell scripts for data analysis. Developed stored procedures, created views and synonyms on oracle database
§  Designed and developed web forms to showcase retrieved data in end-user readable format
§  Mentored team of developers during the development phase
§  Review, debug code and perform validation and verification testing
Education
Maharshi Dayanand University, Rohtak
(January 2004 – January 2007)
§  Master's Degree in Computer Applications
Andhra University, Vizag
(March 2001 – March 2003)
§  Bachelor's Degree in Computer Science
Achievements
I am a nominee of the "Digital Transformation Award" for successfully moving on-premise applications to Azure Cloud, right from the Analytics, Python web app and the back-end SQL Server. The transformation helped the company cut down their expenses drastically by maintaining physical servers, upgrades and their scalability and availability on Cloud. Since everything is on Cloud it's easy for the business users, higher management and stakeholders to have a glance at the Infrastructure & project's statistics on the Cloud.
Hobbies & Interests
I am an active member of Corporate Social Responsibility(CSR). As part of it I used to give computer literacy to poor and needy children and provide books and school bags.
I like to watch movies and play Badminton during my free time and spend time with my family.
References
References are available upon request.