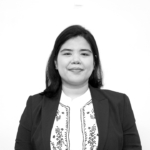 Raisa Perez
About the Candidate
Senior Designer with a decade of experience in visual merchandising, brand development, and print layout. Interested in Product Design and Information Architecture, with a focus on UX and GUI development.
Former teacher and instructor in painting, illustration, and art history; also a freelance crafter and muralist currently doing freelance and project-based work in and out of Metro Manila.
WORK EXPERIENCE
Explorarium co. ltd.
Marketing Coordinator
June 2014 – July 2016
Develop, deliver and communicate visual concepts and strategies to promote the Mathemagis and KooBits brand; it's products and services in-center, on print or online.
Maintain consistency across materials in line with branding concept and goals.
Produce innovative ideas for the visual elements of advertising campaigns in various media. Lead organization and management of campaign events.
Overseen Mathemagis Franchise Expo event booth and presentation; Pre-opening and opening events for Serendra and Alabang Town Center branches. Managed KooBits booths for school fairs at Ateneo Grade School, Xavier School, Immaculate Concepcion Academy, St. Scholastica, Everest Academy, etc.
Sip And Gogh
Head Artist and Painting Instructor for Sip and Gogh Century City mall branch
April 2017 – October 2018
Primary customer contact and experience provider, leading to customer satisfaction with the time they are in the studio's premises.
Handles off-site logistics and event management, as well as liaison responsibilities between Sip and Gogh and costumer-company representatives.
Saint Pedro Poveda College
Part-time Faculty
August 2018 – October 2018
Substitute subject teacher for Grade 12 in Contemporary Philippine Arts from the Regions
Marine Benefits Inc.
Graphic Designer
May 2019 – present
Foster collaboration and consistency across teams by working closely with underwriting, client officers, insurance claim agents, developers, and engineers.
In 3-months designed user flows and interactions of a web portal for Marine Benefit's business clients.
Improve end-to-end experience of member seafarer's claim portal and internal system by conducting usability reviews, identifying UX issues, and proposing redesign recommendations.
Creating print magazine layouts, data visualization, corporate communication materials, and band identity assets.
Skills
adobe Illustrator
Adobe Photoshop
Brand Management
Figma
Graphic Design
Prototyping
Social Media
UX/UI
Wireframing