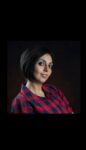 Marine Minasyan
About the Candidate
Address: Budaghyan 6 street, Yerevan, Armenia Cell phone: + (374 93) 58 61 93
E-Mail: marine.minasyan@ymail.com Nationality: Armenian (born in Yerevan)
Date of birth: June 16, 1988 Marital Status: Married Education: Master's Degree
EDUCATION
October 2017 –Project Management Professional (PMP)Certification Course (40 hrs)
– Course scope: Project Management framework, organizational influences and project life cycle,
integration management, scope management, time management, cost management, risk management, quality management, procurement management, HR management, communications management, stakeholder management, professional and social responsibilities.
Sep. 2009 – July. 2011, American University of Armenia, Master's Degree
Master's degree in Political Science and International Affairs (PSIA)
– Major academic courses highlighted: Macro/Microeconomics, Political Science Research Methods, Public Administration, International Relations, Negotiations, Public Personnel Management, European Integration, Budgeting, Conflict Resolution, Human Rights, etc.
– Researches and Presentations Conducted: Economic Perspective of Migration in the RA, 1
Trafficking in Human Beings in the RA, International Commitment of Local Self-Government of RA, Public Administration in Transition Countries, Survey conducted to find the Quality of Privet-Public Schools, "Good Life" in the Greek City State, Israeli-Palestinian Conflict, Eastern Partnership, etc.
Sep. 2005 – June. 2009, Yerevan State Linguistic University after V. Bryusov, Bachelor Degree
Awarded the Bachelor's Degree in Pedagogy/ Foreign Languages (English-Spanish)
– Major academic courses highlighted: Theory and practice of Grammar of English Language, Lexics, Pedagogy, Main Concept of Pedagogy, Practical Pedagogy, Latin, Lexicology, Stylistics, Methodology, Theory and practice of Translation, Practical Phonetics of English Language, English speaking skills, British studies, Foreign literature, Spanish grammar, Spanish speaking skills, etc.
WORK EXPERIENCE
March 2020- Present- DISQO Armenia Project Manager
–  Implementing day to day management and coordination of online market research projects
–  Monitoring proper work of the tools used for the project implementation
–  Managing every aspect of the project from set-up through delivery
–  Maintaining constant and direct communication with clients throughout execution of a project
–  Working closely with sales reps and account managers to make sure projects are on track
–  Presenting the reports to the management about the daily work performed
February 2018-Present- DarmanTest Laboratories LLC Interdepartmental Coordinator/HR Manager
–  Coordinating and understanding the interactions of the various departments, reports, timelines and deadlines.
–  Coordinating employee relations, organizational development, performance development, and more.
–  Coordinating onboarding process including the collection of proper paperwork, opening of accounts, insurance enrollment, etc.
–  Developing and implementing employee development, engagement, motivation and retention programs
–  Developing contracts for new hires, promotions, and department transfers
–  Promoting corporate values and enable business success
–  Responsible for administering performance management program
–  Managing and resolving complex employee relations issues
–  Maintaining timesheets, PTOs, sick leaves, allowances, etc.
–  Developing and Maintaining employee handbook and policies
–  Working closely with management and employees to improve work relationships, build morale,
and increase productivity.
–  Conducting assignment distribution among staff and monitor task implementation
2
–  Contributing to regular reports on activities the team have undertaken on the projects they are working on
–  Producing a team plan of work that reflects work priorities
–  Ensuring project documentation and information is up to date and relevant, complying with RA
regulations and US FDA regulations
–  Working with the staff on review and preparation of final study reports
–  Controlling, coordinating generation of, revision of, editing of and maintenance of all standard
operating procedures (SOPs)
–  Participating in establishing procedures, guidelines and forms, if and as necessary.
–  Participating in preparation of the yearly budget plan and expenditures
June 2014- October 2017-CH2M HILL Constructors Inc., Armenian Branch Document Control Specialist
–  Managing Document Control System through SharePoint Software
–  Uploading all the necessary documents to the SharePoint accurately and timely.
–  Providing access to and information about company's documentation.
–  Making sure that all the documentation work performed is not in the conflict with the
company's policies, regulations, ethics, health and safety standards, making sure to provide a
high quality work in an accurate manner.
–  Ensuring stakeholder views are managed towards the best solution.
–  Providing timely feedback on projects undertaken to be recorded in database
–  Providing confidentiality and limited access to highly important and specific documents.
–  Assisting management in different organizational issues.
–  Coordinating communication between the management and subcontractors, organizing
meetings, taking meeting minutes.
–  Reviewing the company's and subcontractors' proposals, Scope/Statement of Works, project
specifications and submittals.
–  Maintaining communication with local subcontractors and Armenian government authorities
April 2013 – June 2014- Darmantest Laboratories LLC Translator/Office Manager
–  Employing existing Quality Policy and resolving any problems related to quality assurance.
–  Editing and proofreading all required documents (e.g. SOPs (Standard Operating Procedures),
forms and logs, study documentation, etc.).
–  Managing the employee training calendar. Filing and archiving all employee training records,
personnel files, CV's and updates thereof, based on employee participation in trainings,
conferences, seminars, etc.
–  Documenting minutes for certain management meetings, study initiation discussions and other
significant meetings.
–  Maintaining and monitoring project plans, project schedules, work hours, budgets and
expenditures.
–  Generating employee attendance reports and provide them to the Management on a weekly
basis. Provide all employees and guests with access badges. Collect access badges back from guests and employees no longer with the company.
3
Spring 2011 – December 2012. The Civil Society/Local Government Support (CSLGS) Program, in partnership with United States Agency for International Development (USAID).
Department Assistant
–  Implementing projects from initialization to completion
–  Maintaining and monitoring project plans, project schedules, work hours, budgets and
expenditures.
–  Ensuring project deadlines are met.
–  Determining project changes.
–  Undertaking project tasks as required.
–  Developing project strategies.
–  Ensuring projects adhere to frameworks and all documentation is maintained appropriately for
each project.
–  Assessing project risks and issues and provide solutions where applicable.
–  Creating a project management calendar for fulfilling each goal and objective.
–  Writing my internship policy project on the tools which civil society utilizes to participate in
legislative decision-making process, discussing the challenges of the process
–  Working on a discussion paper and fact-sheets on tracking voting records of the NA
–  Responsible for SPSS data input and analysis
–  Conducting working papers on Local Tax System in Armenia
–  Helping to prepare and handle presentations
–  Doing research on various topics
–  Providing administrative support to the staff
–  Visiting communities for Institutional Assessment and conducting reports
October 2010 – June 2011: Turpanjian Center for Policy Analysis. American University of Armenia (Part-time)
Researcher/Interviewer
–  Conducting interviews
–  Doing SPSS data input and analyzing the results
–  Preparing study reports
–  Providing administrative support
TRAININGS AND COURSES
May 2022- Agile Project Management Essentials- certification course
March 2018 – HR Management Certificate Course
September 2017-February 2017- TEFL Training-120 Hour TEFL Certificate – The TEFL Academy, UK
November 2017- Project Management Professional Prep certification course
COMPUTER SKILLS
Microsoft Office Word, Microsoft Office Excel, Microsoft Office PowerPoint, Microsoft Outlook, SPSS, SharePoint, Birtix24, Oracle, Primavera, Trello, Asana, Jira, Confluence.
4
SUMMARY OF QUALIFICATIONS
Language skills: Fluent in speaking, writing, and understanding of English, Russian, Armenian languages and fluent in writing but good at speaking and understanding Spanish.
Other skills: Drive for results, responsibility, functional competencies, rapid adaptability to the problems and finding ways of solving them, foreign communication skills, research and analytical skills, easy-going personality skills, following instructions and procedures,
commitment to the work,
planning and organizing