Sinking Spring, Berks County, Pennsylvania, United States
Member Since 2022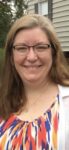 Leah Catherine Merolillo
About the Candidate
Customer-oriented General Manager with 20+ years of experience focused on increasing revenues and expanding margin. Adaptive
and deadline-oriented consistently executes and completes multiple projects in high-stress environments. Meticulous leader and
strategic planner with comprehensive managerial acumen, offering vision and motivational acumen. Resourceful and people-oriented professional who is passionate about delivering exceptional operational service standards utilizing excellent planning,
execution, monitoring, and resource balancing skills with the ability to build and lead effective teams. Achieved a track record of
success in store management, hospitality operations, materials planning, customer service, team management, and business
development. Proven abilities in addressing operational issues, resolving performance bottlenecks, managing conflicts, devising
policies for improving services, and achieving desired objectives. Proficient problem solver.
Education
May 2022
Western Governors University
MBA
2021
Western Governors University
BS-Business Administration-Management
Experience
1998-2022
Darden Restaurants
General Manager
I was a loyal employee of Darden Restaurants for 24 years and earned several promotions during my career. I recently resigned to finish my MBA and make a career pivot.
Skills
Analytical skills
communication skills
Conflict resolution
Customer Service
Decision Maker
Forecasting
Hiring
Integrity
Interviewing
Inventory
Leadership
Management
Negotiation
New-Hire Orientation
Onboarding
Ordering
Performance Reviews
Problem Solving Skills
Scheduling