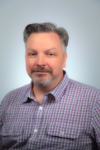 Jim Erwin
About the Candidate
Dedicated System Engineer offers successful career history comprising more than 18 years in technology. Adept at cultivating long-term partnerships with vendors and clients. Two decades of successful dedication as a team player driven by customer and co-worker interaction.
Recently, a vital member of a focused team providing end-to-end support and transition of analog CCTV systems to WIndows management servers, storage arrays, workstations, and users. Duties include software testing and deployment of updated clients, permissions and firmware upgrades, and patching and upgrading Windows servers and storage arrays.
Expertise includes configuring and monitoring complex systems and infrastructure with extensive repair and replacement experience of technology hardware.
Education
Fall 1987 to Summer 1991
West Texas A&M University
Bachelor of Music/Business
06/2004 to 09/2005
TechSkills
MCSA: Server 2003, A+, Network+, Security+
Experience
12/2008 to 06/2022
CoreCivic
Enterprise Operations Engineer
Deployed and supported Windows servers and workstations, and storage arrays, including maintenance of firmware, software, and security updates and patching
Fulfilled essential role in large-scale modernization of networked surveillance systems in more than 70 locations. Resulted in responsibilities for 350 servers, 95 storage devices, and 2000+ users
Participated in continuous improvement by generating suggestions, engaging in problem-solving activities to support teamwork
Pursued new skills and applied them to daily tasks to improve efficiency and productivity (PowerShell)
Improved operations through consistent hard work and dedication
09/2005 to 12/2008
BancTec
Senior Customer Engineer
Provided face forward desk side support at AT&T, Toyota Financial, AON Insurance, and several other branch office organizations
On-site support for Windows server updates and maintenance
Delivered exceptionally high level of professionalism and support to each customer, upholding company's commitment to service
Implemented hardware and software deployments based on user and corporate specifications
Performed repair and warranty service for Lexmark, Dell, HP, Samsung, and Independent Technologies
One of seven high-skill iBot wheelchair repair and service technicians in United States
Certified Polycom VTC and Unified Conferencing technician
Skills
Active Directory and Multi-User System Management
CCTV Video Management Infrastructure Configuration
Committed Teamwork and Collaboration
Culture Awareness
Excellent written and oral interpersonal communication
Improving PowerShell Skills
In-depth Windows and Apple Operating system knowledge
Ms office
Organization and Time Management
Server Management and Engineering
Superb Customer Relations
Video Conference Endpoint Management