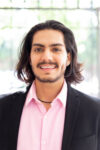 Jesus Fuentes
About the Candidate
Jesus Fuentes
About me
I'm a visual media creator based in Mexico, looking for a job offer abroad. I've previously lived in Ottawa for nine years and graduated from Highschool and College. I also have Canadian work experience in my field as a social media specialist, videographer, photographer, and editor. I'm hardworking, diligent, and dedicated—all qualities I put forward in everything I do.
Work Experience
Professional Content Creator (Freelance) Jun 2013 – Present
– Created influencer publicity ads for Osheaga, Nautica, H&M, Post-it, Sport Chek, McDonald's & Simons.
– Worked on influencer videos for websites like BetterHelp and Skillshare.
-Created creative content across multiple social media channels for influencers like Joey Kidney & Elle Mills.
LEAD CONCIERGE (Grupo Vidanta / Grand Luxxe Residence Club) Nov 2018 – Mar 2019
– Responsible for guest onboarding experience enhancing their vacation with optimal amenities according to their specifications, preferences and budget.
PROFESSIONAL VIDEO EDITOR (Waterbridge Media) Feb – Dec 2017
– Main photo & video editor for the Real state department.
– Cameraman for creative video shoots and private or public events.
Education
Interactive Media & Design | College Diploma (Algonquin College of Applied Arts & Technology)
– Attended in September 2014 & graduated in May 2016.
– Focus on Video Production / Photography / Social Media.
High School Diploma (Notre Dame High School)
– Attended in September 2011 & graduated in June 2014.
– Member of the Choices Team / Peer Support Group / M&Ms Program & the Year Book Club.
– Received the Peer Support Award & Staff Bursary Award.
Skills & Traits
Adobe Creative Cloud Suites | Social Media Marketing | Video & Photo Editing | Video Production | Photography | Team Player | Charismatic Motivated | Proactive | Honest
Let's chat
jesusvisuals@gmail.com
Portfolio
Languages
Fully bilingual in English & Spanish
References
Joey Kidney CEO of Stay You (joeykidney@gmail.com)
Brian Frank CEO of Waterbridge Media (brian@waterbridgemedia.ca)
Skills
Adobe Creative Cloud Suites
Charismatic
Honest
Motivated
Photography
Proactive
Social media marketing
Team Player
Video & Photo Editing
Video Production