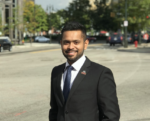 JAISON JOHN CHERIAN
About the Candidate
I am a quality-driven and skilled professional with over 5 years of experience in Operations, Business Development, and Corporate Strategy in, energy and technology Fortune-500 companies.
Possess strong ability to learn quickly, strategize and act with focused effort to achieve an objective. Exceptional relationship-building skills having worked and lived across the US, Middle East, and India.
Team player who thrives in an environment that values problem-solving, leadership, collaboration, and entrepreneurial spirit.
Education
2018/2020
UNIVERSITY OF MINNESOTA - Carlson School of Management
MBA-Operations & Strategy
2009/2013
NATIONAL INSTITUTE OF TECHNOLOGY
Bachelor of Technology – Mechanical Engineering
Experience
May 2019 – August 2019
AMAZON
Operations Manager Intern
• Owned a project aimed at reducing internal transport inefficiencies within Amazon's Fulfillment Center network; identified potential annual cost savings of $1.8M
• Identified and drove process improvements to optimize transportation productivity by redesigning workflow and implementing Excel macros, resulting in 12% increase in transportation cycle time
• Managed 2 complex projects under 12-week deadline by developing relationships with numerous stakeholders within Amazon's Operations, Process Improvement, Human Resource teams
January 2019 – May 2019
CARLSON VENTURES ENTERPRISE
Consultant
• Collaborated with a team of five consultants to develop corporate innovation strategy for $1B brand
• Researched and evaluated competitive landscape and internal processes through 52 in-depth stakeholder interviews; defined and proposed data driven market recommendations to C-Suite
December 2013 – July 2018
NATIONAL OILWELL VARCO
Engineer
• Supervised 15-member team to strategically execute 4 local and 7 international engineering projects worth ~$35M each in a timely and cost-effective manner
• Lowered material cost by ~$165K by researching and analyzing financial depreciation of assets in collaboration with procurement division for inventory valuation
• Managed project from concept-to-launch for 4 drilling rigs worth $120M leveraging product life-cycle methodology; led 4-member team to design and analyze mechanical systems of rig
• Negotiated and coordinated purchase of parts worth ~$3M annually with cross functional partners and vendors including Eaton & Parker Corporation
• Evaluated and improved previous business process design by creating new system to optimize employee utilization by 11% resulting in savings of ~$16K annually
• Selected from peer group of 21 for two month leadership development program at Port Elizabeth, South Africa
Skills
Business Development
Operations Management
Process Improvement
Strategy