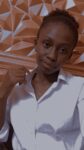 Gloria Mathias
About the Candidate
            GLORIA MATHIAS
Abuja, Nigeria
Email Address:  gloriamathias84@gmail.com
Mobile number :+2349052553464 , +2348182782547
High school graduate seeking to start a career at Record/book keeping.
I am a Confident and articulate individual with commended ability to work with others to achieve set outcomes. Young yet mature high school graduate with developed employability skills and personal attributes that support the transition from education to full-time employment. I have developed a good Leadership and communication skill through team work and participation in seminars. I am a Motivated individual keen to obtain accountability and stability in work environment.
Date of Birth: 16th November 1998
State of Origin: Benue state, Nigeria
Language: English,  Idoma, Hausa, Yoruba.
Marital status : Single.
Key Strengths:
• Strong attention to detail and willingness to learn and develop professionally.
• Records management.
• Proper Cash handling.
• Task Allocation.
• Problem solving.
• Team work.
Education:
First Baptist Nursery And Primary School, Zaria Nigeria (1999-2008)
Premier Comprehensive High School  (2009-2014)
PERSONAL ATTRIBUTES:?
• Verbal Communication: Recognised ability to communicate with a range of individuals from different cultures and backgrounds. Demonstrated by 3years experience at Sazy Logistics.
• Commitment & Dedication: Willing to provide long-term ongoing contribution and commitment to an organization.
• Reliable: Commended reliability as team member and supporter. Demonstrated by attending all Royal Crown School speech and prize day.
• Honest: Strong personal morals and ethics ensure complete honesty and transparency. Demonstrated by managing cash count at fundraisers and events in school community.
Work Experience:
Book Keeper at Royal Crown Schools Zaria, Nigeria (2015-2019)
Professional Referees 
• Blessing  Eziamaka
principal, Royal Crown  Schools
08134724775
• David Obochi
Manager, Sazy Logistics
08188793432
Skills
Book keeping
Customer Service
Sales person