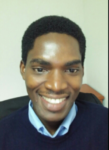 Chinedu William Okoro
About the Candidate
Email: neduokoro57@gmail.com
LinkedIn: linkedin.com/in/nedu057
OKORO, CHINEDU WILLIAM
CANDIDATE PROFILE
Chinedu combines a degree in Engineering with 4 years working experience in Project Management, Account Management and Agile based Product Development & Management. Known for having a goal driven & solution-oriented approach to work, Chinedu builds best solutions with his project team.
SKILLS & PERSONAL TRAITS
§  Project Management
§  Business Relationship Building
§  Business Content Development
§  Business Intelligence
§  Business Strategy
§  Database Management [MySQL]
§  Project Administration
§  Business Proposals
§  DevOps Management
§  IT Business Analysis
§  Research & Report Writing
§  Web Design [WordPress]
§  Software QA Test Engineer
§  Software Tech Support
§  Six Sigma Enthusiast
§  Agile Practitioner
§  Stakeholder Relationship Management
§  Analytical
§  Detail-Oriented
§  Life Learner
§  Tech Savvy
§  Team Player
§  Facilitator
§  Writer
§  Excellent Communication Skills
EDUCATION & TRAINING
B.Eng. Petroleum Engineering,                  Federal University of Technology, Owerri.                 December 2011
Entrepreneur Training                                     Entrepreneurship Development Center Lagos          April 2012
HSE Supervisor Level 3                                    Nigerian Institute of Safety Professionals [NISP]      August 2013
Piston & Fusion Nig. Ltd.                                  Project Management PRO                                                May 2014
HTML, CSS                                                           Codecademy.com and W3schools.com                        July 2015
Aggregate Supply & Demand.                         Alison.com                                                                           May 2016
Operations Management Fundamentals.    W3schools.com                                                                  July 2016
Supply Chain Management                              MITx Mini MSc Series                                                       Dec 2017
ITIL (V3)                                                               New Horizons                                                                     Aug 2018
Bus. Analysis & Agile PM Pro                         Digital Bananas Technologies                                          Dec 2019
Product School                                                   How to build digital products                                           Apr 2020
PROFESSIONAL EXPERIENCE
CAR4U NIGERIA LIMITED                                                                                                           January 2018 – May 2020
Technology Operations Manager
Technical Support/IT Business Analyst
ü  Oversee all aspects of technical operations around company technology offerings – Web based Applications, Mobile Applications
ü  Software Testing – QA/QC
ü  Collaborate with customer service staff to respond to inbound technical support requests from Key Accounts and business partners via support channels, email, skype, phone or walk-in.
ü  Advise Management on software upgrade requirements as need arises
ü  Liaise with internal stakeholders to analyze, document, communicate and validate business and system requirements for both existing and concept stage company technology offerings.
ü  Advise stakeholders (internal & external) on best use of company offerings to meet their business objectives
ü  Provide technical insight for meetings with clients & prospects
ü  Troubleshoot, creatively solve problems and keep systems/processes operational.
Operations Manager
ü  Coordinate all company Operations to ensure business growth
ü  Liaise with Engineering team to ensure all business IT & technology infrastructure is working & online
ü  Carry out Project Management and Support for Swyft Corporate Mobile Apps and Web Applications.
ü  Prepare timely Reports on State of Business.
ü  Provide data for relationship management and sales
ü  Coordinate other staff departments (Finance, Admin, Customer service, Accounts and HR) ensuring they meet business goals.
ü  Develop, Design and Implement winning company business processes and strategy
ü  Ensure payment infrastructure is operating optimally
ü  Coordinate Finance Ops – create & deliver weekly vendor payroll
Key Achievements:
§  Responsible for optimizing flawed work flow processes and removing waste
§  Recovered 8-month old payment transaction backlog owed to the company
§  Successfully grew business client base to 5 active clients
DEQNA INTERNATIONAL LIMITED                                                                           October 2016 – December 2017
IT Business Analyst – Research & development
ü  Conduct Research and report findings.
ü  Carry out Data Analysis to help management in decision making.
ü  Create business proposals, documents and presentations using Microsoft Excel, Word & PowerPoint.
ü  Work with Business Development Team in IT Projects – from Concept to Design, Process Flow Design, Comprehensive Software testing, Market Launch onto sales.
ü  Develop Business case, and business requirements documents for company projects.
ü  Advise Management on new Business Innovations and creatively devise new ways to solve problems of the ever-changing marketplace.
ü  Make Business Presentations at company stakeholders and consultant meetings.
ü  Collaborate with development team to ensure projects meet specifications and requirements are adhered to.
ü  Gathering and analyzing market data.
ü  Collaborate with the Marketing Director and other marketing personnel, including account executives, creative directors or media planners and develop marketing strategies for diverse business environments.
ü  Other support duties as required by the MD.
Key Achievements:
§  Oversaw and Managed a Data Gathering exercise for our product. Project entailed mobilizing 30 data entry staff for the exercise.
§  Earned the reputation as the Content Writer for the company – Produced commended content for Government Proposals, Conferences Product Brochures, Training Manuals, Pitch decks, Presentations, Website Content, Legal Documents etc.
§  Official App test engineer at the company
§  Worked as Head Protocol and Team Lead for product launch Events in 2017.
§  Played a key role in the development and launch of http://artisanshub.com  ; http://msme-bk.deqna.com ; http://deqna.com
Sales team lead
ü  Plan and Oversee Sales Operations.
ü  Support Sales team with data backed strategies and support for their field activities.
ü  Create and maintain Business Relationships that will ultimately lead to sales.
ü  Respond to customer queries and technical issues.
ü  Plan and implement marketing strategies; analyzing trends and results.
ü  Establish sales objectives by forecasting and developing annual sales quotas for regions and territories; projecting expected sales volume and profit for existing and new products.
ü  Manage sales team by recruiting, orienting and training staff.
ü  Motivate sales team to meet and exceed targets.
ü  Provide Technical Support to internal and external clients.
ü  Prepare Digital Marketing Plan for product campaigns.
ü  Utilize winning customer service strategies to ensure customer loyalty and return business.
Key Achievements:
§  Lead from the front by signing up large accounts.
§  Ensured staff were well trained and motivated to produce results.
§  Acquired & Maintained Loyal sales accounts till date.
SMILE COMMUNICATIONS NIGERIA LTD.                                                              October 2015 – September 2016
Retail Sales Officer
ü  Create and manage customer accounts
ü  Customer relationship management (attending to customer enquiries and complaints)
ü  Offer Technical and after sales support to customers
ü  Carry out all services to customers on the Smile Enterprise Resource Planning Software – SEP
ü  Promote and create awareness on company products, building new sales relationships with timely follow up to convert prospects into sales.
ü  Report incidents to technical team on Jira
ü  Analyze and manage allocated territories to bring in sales.
ü  Prepare daily sales and inventory reports for management using Microsoft Excel
ü  Present financial report and evidence of sales made to Regional Accountant at weekly regional meetings.
ü  Propose, plan and oversee marketing event projects in allocated territories.
ü  Strict compliance with all Smile Communications' value system and ethical behaviors
Key Achievements:
§  Succeeded in making a low sales output outlet (Ojo-Alaba Outlet) the highest selling outlet in the region (April 2016)
§  Sorted out a nagging inventory issue at the Isolo outlet 2 weeks after being transferred there.
EDINBURGH INTERNATIONAL WEST AFRICA LTD.                                    November 2013 – September 2014
Safety and Security Supervisor (Team Lead)
ü  Lead a team of safety and security personnel to ensure the safety of client during projects
ü  Oversee all aspects of the day-to-day conduct of the project security program and protocols.
ü  Maintain constant liaison with the client POC on all project security matters – PA or Client driver
ü  Manage and coordinate all project security and safety programs, plans and policies.
ü  Tender timely situation reports and Incident reports as when necessary using Microsoft Word to the Ops Manager
ü  Take charge of Journey management operations on projects from Pickup of expat clients from the airports to departure.
ü  Ensure safety of client and client's assets at all times.
ü  Create schedules/roster for team members using Excel spreadsheet
ü  Convene periodical team safety meetings and pep talks
ü  Ensure company assets in use for projects (worth an excess of 4 Million naira) are in good working condition and fit for day to day operation
ü  Recommend tune ups and maintenance jobs as when due on aforementioned assets.
Key Achievements:
§  Acted as first line of support to clients.
§  Kept a reputation of being cordial, on-top of things and friendly with expatriate clients.
IT SKILLS                                                                                                          EXTRA CUCRRICULAR ACTIVITIES
Microsoft Office Suite: Word, Excel, PowerPoint,
Analytics: Google Analytics, Excel,
Database Management: MySQL
Software Testing: Microsoft Excel, Selenium
Collaboration and CRM: Trello, JIRA, Confluence and Basecamp
I enjoy Presenting, Teaching, Sports, Video Games, Reading, Creatively Solving Problems, Meeting & Inspiring People.
REFERENCES
Available on Request
Experience
May 2020
Bareli Communications
Founder
Jan 2018/May 2020
Car4U Nigeria
Technology Operations Manager