Hermosillo, Sonora, México
Member Since 2020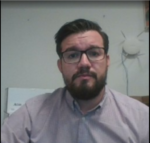 Carlos Valenzuela
About the Candidate
Skilled Engineer who excels at juggling multiple task and working under pressure. Broad expirience in project development environments. Strong leadership and relationship-building skills.
WORK EXPERIENCE (February 2017 – Present)
Technological Innovation Coordinator at CAFFENIO, Hermosillo, Sonora, México (February 2017 – Present)
-Manage the coordination and overall integration of technical activities in engineering projects.
-Plan and direct the installation, testing, operation, maintenance, or repair of equipment.
-Prepare project status reports by collecting, analyzing, and summarizing information and trends.
-Project Leader at ECN Automation, Hermosillo (August 2013 – July 2016)
-Analyze issues with equipment and develop solutions as well as continual improvements that can prevent malfunction in the future.
-Read blueprints, schematics, diagrams, or technical orders to determine methods and sequences of assembly
-Analyze and record test results, and prepare written testing documentation.