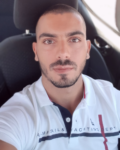 BACHIR El Marj
About the Candidate
Summary
+96170786300
Prudent Mechanical Engineer with around 3 years of experience in project management and development of the first large scale Wind Farm in Lebanon, (227MW total capacity).
Experience:
Field Coordinator Infratech SAL Feb 2019 – Present (1 year 9 months +)
• Received Promotion within 12 months due to strong performance and organizational impact – ahead of schedule by 3 months.
• Mentor a 4-member cross-functional (engineering, media, support) team and coordinated with 3 business partners toward the successful completion of study phase on the first wind farm project in Lebanon.
• Organize and execute work on wind farm development including Geotechnical, E&S assessment, Topographical-survey and Meteorological mast assembly and maintenance and cut the time by 25% on all assignments.
• Prepare, review and check the layout calculations and design to decrease land compensations by 15%.
• Draw and make presentations and reports to stakeholders and for professional meetings.
• Assist with Conflict resolution process and take part of the negotiation with the opposition which resulted to resume work on site after 12 months stop.
Assistant Project Manager Infratech SAL Mar 2018 – Feb 2019 (1 year)
• Advocated local support for the Project Coordinator on progress of assignments and daily tasks which resulted in 20% deduction of time.
• Negotiated the project management team to compile and organize updates, details and schedules for 3 wind farm projects.
• Engaged with key stakeholders, including Developers and General Contractors, for project support, project reporting and related tasks.
• Directed the Field operation with local contractors on all 3 sites. Service Engineer Middle East Airlines Jul 2012 – Oct 2012 (4 months)
• Conducted maintenance and service of Airbus 318/320/330.
• Compiled worker logs, product processing sheets, or specification sheets to verify that records adhere to quality assurance specifications.
• Recorded test data and applied statistical quality control procedures to reduce data entry time by 10%.
Education
2014-2016
University of Wollongong
Master Degree
Experience
Feb2019-present
Infratech SAL
Field Coordinator
March2018-Feb2019
Infratech SAL
Assistant Project Manager
Skills
Asana
AutoCAD
Critical-thinking
Detail-Oriented
HAP
HVAC
Ms office
Ms project
PFE
Revit
Solidworks
Team-Player.
Windpro