Kolkata, West Bengal, India
Member Since 2021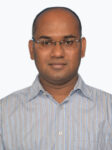 Anindya Das
About the Candidate
Anindya has experience in the development of network applications for layer-2 device, i.e. Ipanema's Ip|Engines which enables faster and optimized connectivity on specific LANs within a WAN. He also worked on Lawful Interception for IPLC. He also integrated LI with CMS. He is currently working in the development of security and protocol features of Cisco's Web Security Appliance. Apart from industry, he had research experience on text compression methodology, pattern matching, text indexing, and its corresponding state-of-art data structures, e.g. – prefix tree, AVL tree suffix tree, suffix array.
Experience
30-Oct-2019/Till date
Developing new Features in Cisco Web Security Appliance
22-Jan-2018/25-Oct-2019
Vehere Interactive Pvt. Ltd
Senior Product Engineer
Developing, extending and maintaining Lawful Interception Device
26-Apr-2006/29-Jan-2014
Alumnus Software Ltd.
Technical Lead
Developing of adjacent source detection in SMS Spam Filter and implementation of UI for configuring quarantine patterns and source of possible spams
Skills
C
DNSSEC
HTTP/2
IPCs)
Linux System programming (Socket
Multhread
OpenSSL
TCP/IP