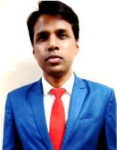 Amit dandekar
About the Candidate
AMIT DANDEKAR
Phone      : +91 9766770366, +91 7972167915
Email       : amitdandekar02@gmail.com
LinkedIn: https: amit-dandekar-76b47336/
CAREER
OBJECTIVE
CAREER
SUMMARY
Seeking a better position as assistant purchase manager in a well-established organization, where I can utilize my potentials, skills, and abilities and substantially contribute towards the development of the organization.
Professional individual with 9 years of proven experience in planning, inventory controls, replenishment, warehouse and procurement functionality. Ability to achieve high productivity standards and quality of work. Effective team leader with the proven ability to manage resources efficiently, drive productivity, and ensure on. Have a good experience in accounts. Strong accomplished  Purchase experience in General items, Food, housekeeping , security  & Engineering  products .Solid understanding of material sourcing from Local and national markets. Process all materials planning activities on targeted deadlines .Proficient in Microsoft Office and ERP systems. Some of area expertise includes:
·         Vendor Management, Warehouse Management  Cost control, Store Management, Procurement, time Management, Inventory Planning, contract Negotiations, Accounts.
WORK
EXPERIENCE
NOVEMBER 2013 – Present
Radisson blu hotel Nagpur
Materials Executive.
Responsibilities:    For Purchase management
·         Follow approved process for Procurement for hotel. Enter Computed and created purchase orders in software to monitor stock levels, timely verify purchase requisitions for Completion in adquete time.
·         Timely review Orders which gone to be purchase. Coordinate with vendors for process including Order executions, timely delivery, and dispatch and invoicing as per set contractual guidelines.
·         Negotiate Supply contracts with vendors to achieve optimal pricing and consistent availability.
·         Maintained documentation for all purchases , requisitions , issues and approvals.
·         Collaboration with Vendors for special events and seasonal requirements of hotel.
·         Monitor shipments to ensure goods were delivered on time and in good condition.
·         Standardized process for inventory in system for ABC analysis and taking instituted corrective action for close-outs and out-of-stock items with intention to maintain inventory on minimum level.
·         Research suppliers based on their availability, quality products, better price. Negotiate with suppliers, vendors, and other Company representatives for maximize revenues for the company
·         Provide Important updates & MIS reports to Management
Responsibilities:   For Stores Management
·         Maintain adequate stock without any variance by conducting stock verification and documentation & keep up to date records for store daily transactions .
·         Implementing Standard Operating Procedures within the store.
·         Maintain proper (FIFO) Par stock  level at store by ensuring not to made overstocking of food item Which cause to the spoilage.
·         Regularizing material receipts and ensuring the fluidity of stocks from vendor to store.
·         Ensuring quality packaging to prevent goods from getting damaged in transit.
·         Accommodating the new products with the non moving products. Maintain proper Cleaning and Hygiene at store.
Key achievements
·         Minimize the cost of procurement by 12 % by introduce alternative products & services with Quality assurance.
·         Reduce Cost of Engineering maintenance cost 8 % every year by using alternative products like led and energy saving equipments.
·         Minimizing the cost of procurement by negotiate with vendors rates for maximizing profit of company.
Premier India Enterprise                               From January 2012 to July 2013
Accountant
Responsibilities:
·         Prepared  MIS reports  for Management regarding expenditure & income.
·         Recorded all transactions and prepared related summaries reports  to Project enquiries both in-person and over the phone.
·          Enter all the entries and transaction in software for Keep record up to date.
·         Timely resolve issue regarding taxation & Invoicing with regular follow-ups.
·         Periodically updated and maintained Account database.
·         Prepare mis report for management Prepare & post Journal entries & reconcile general ledger & accounts Prepare bills , follow-up and track receivables.
Apurva Engineering                                                From April 2011 to Dec 2011
Accountant
Responsibilities
·         Prepares monthly expenditure statements, including  monthly revenue and expenditure reports to departments.
·         Calculates and prepares reimbursement billings and tracks receivables
·         reimbursement billings and tracks receivables.
·         Banking operational works, DD, loans and other official works.
EDUCATION
Online Certification
·         Yashwantrao Chavan Maharashtra Open University – Master of Business
Administration – Finance – March -2013
·         Nagpur University Bachelor of commerce – B level – 53 %.
·         Higher Secondary Certification – A level 68 %, February – 2005.
·         Maharashtra State Board – High school Certification – A level 69% March -2003 ,
·         Maharashtra State Technical Board – Certificate of Information Technology A level 70% -April -2006
·         Procurement & logistic Certificate /2020 DsasterReady-CILT (UK)
·         Marketing Data Analysis basics /2020 –Bit Degree
·         Fundamental of Digital Marketing/2020- Digital Garage –Google Certifications
IT SKILLS
Languages
Tally 7.2, Tally 9.0, MSCIT, MS office, Internet, Micros –Fidelio, alif (IMCS)
compatible  with all level of programs & window systems, SAP
Hindi ,English
Experience
November 2013
Radisson Blu hotel Nagpur
Materials Executive
Skills
cost control
Vendor managemet