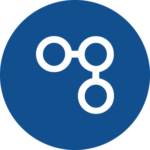 SnapLogic
About the Company
SnapLogic provides a platform for enterprise cloud and big data integration. The company's Intelligent Integration Platform accelerates data and process flow across applications, databases, data warehouses, big data streams, and IoT deployments. Whether on-premises or in the cloud. It also enables the unification of multiple endpoints including SaaS, ERP applications, APIs, data warehouses, big data, and "things" – all on a single platform.
Unlike traditional integration software that requires painstaking, hand-crafted coding by teams of developers, SnapLogic's simple platform enables IT and business users to develop quality, scalable data pipelines that get the right data to the right people at the right time.
SnapLogic balances design simplicity with platform power to obtain immediate value. The company's intuitive, cloud-based, self-service software allows for easy snap-and-assemble orchestrations via a drag-and-drop interface, robust enough for developers yet easy to master for citizen integrators.