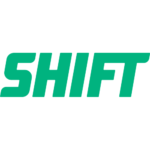 Shift
About the Company
Shift is an online marketplace for buying and selling used cars.
Acting as a personal concierge service, the company details cars, lists them on multiple lists, handles test drives, and finds intent buyers. Charging a Shift Service Fee for registration, car prep services, and sales tax, Shift provides customers with a 150-point concierge report
that includes specs, high-resolution photos, vehicle history, and results on their cars before purchase.