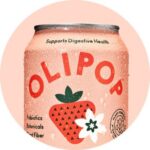 OLIPOP
About the Company
OLIPOP was founded in 2017 by Ben Goodwin and David Lester. Ben and David have been working together for nearly a decade to find accessible solutions to bring the benefits of digestive health to as many consumers as possible.  OLIPOP is a deliciously refreshing tonic that is crafted with prebiotics, botanicals and natural plant fiber to support your microbiome and benefit digestive health. We're on a mission to provide an affordable, delicious alternative to soda that delivers leading edge health benefits to mainstream consumers.
OUR TEAM
Our team is a special bunch, with a very unique way of working. We're all fully remote, which makes us all highly collaborative and resourceful. We share a singular mission to make the world a better place with a product that supports your health and is truly enjoyable. And while we're invested in our product, we're equally invested in one another's personal development. We're tightly knit, we're genuine and we're always pushing the envelope to do a better job than we did the day before.
At Olipop our values lead the way we create our products, engage with each other, and interact with our community.  Being a part of the OLIPOP team is about more than a career, and therefore we seek to recruit and include people with a diversity of abilities, backgrounds, and cultures to better serve our diverse community of customers.