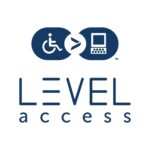 Level Access
About the Company
Level Access provides digital accessibility compliance solutions to address the ADA, WCAG, CVAA, AODA, Mandate 376, and Section 508.
Level Access was originally founded in 1997 by engineers with disabilities, and was a pioneering force in digital accessibility, existing longer than any other modern solution provider in the space. Level Access continues to be known for its deep and respected subject matter expertise and unparalleled leadership in the accessibility business.
eSSENTIAL Accessibility emerged in 2008, creating the category-defining digital accessibility platform, which introduced Accessibility-as-a-Service as an approach to the market. Its founding business objectives—rapid growth and ongoing innovation—continue to drive ideation and expansion today.
Our combined company draws together the strengths of both founding organizations to provide the end-to-end digital accessibility solution transforming the future. As a united team, we're paving the way for equal access to technology and digital equality for all.