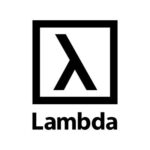 Lambda
About the Company
Lambda's mission is to accelerate human progress with computation. Our cloud and on-premise supercomputers power AI research at the forefront of quantum computing, cancer detection, autonomous aircraft, drug discovery, self-driving cars, and much more.
Lambda's products accelerate AI research at thousands of organizations, including Intel, Microsoft, Amazon Research, Tencent, Kaiser Permanente, MIT, Harvard, Stanford, Caltech, and the Department of Defense.
Join us in building the future of Artificial Intelligence.