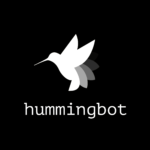 Hummingbot
About the Company
Hummingbot's mission is to democratize high-frequency trading (HFT) through open source technology. Launched in 2019, Hummingbot is an open-source trading bot project in crypto, with 33k+ installs and connectors to 20+ exchanges.
In addition, Hummingbot operates Hummingbot Miner, the leading liquidity mining platform for centralized exchanges.
Hummingbot Miner lets users of the open-source Hummingbot software earn rewards from projects such as Algorand, Solana, Zilliqa by running market-making bots on certain trading pairs. The concept of liquidity mining, a decentralized model for liquidity provision, was invented by Hummingbot in a 2019 whitepaper.
Having started the company in 2017 as a quantitative hedge fund, Hummingbot's founders combine 22 years of experience in investment banking and trading at Goldman Sachs and JP Morgan with engineering and product leadership roles at Silicon Valley companies like Apple and Nitro.
Hummingbot has raised a total of $13.6 million from Initialized Capital, Bain Capital Ventures, 1kx Capital, Borderless Capital, Ironfire Ventures, Stanford-StartX Fund, and other funds and angels.