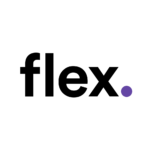 Flex
About the Company
Founded in 2019, Flex is a NYC-based FinTech startup that is building the infrastructure to enable flexible bill payments for all Americans, starting with a very common and very large expense: rent.
We make sure our customers' rents are paid on time every month. We then split the payment into bite sized amounts for our customers to pay us
back throughout the month on a schedule that works for them. This allows our users to have more cash on hand, save more money, and ultimately avoid unnecessary debt.