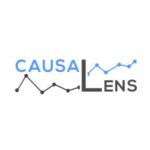 causaLens
About the Company
causaLens is pioneering a completely new approach to time-series prediction. Its Enterprise Platform is used to transform and optimise businesses that need accurate and robust predictions – including significant businesses in finance, IoT, energy and telecoms. Almost all current machine learning approaches, including AutoML solutions, severely overfit on time-series problems and therefore fail to unlock the true potential of AI for the enterprise. causaLens was founded with the mission to devise Causal AI, which does not overfit, and so provides far more reliable and accurate predictions. The platform also includes capabilities such as autonomous data cleaning and searching, autonomous model discovery and end-to-end streaming productisation.
causaLens is on a mission to build truly intelligent machines that go beyond current machine learning approaches – a curve-fitting exercise. Devising Causal AI has allowed us to teach machines cause and effect for the first time – a major step towards true AI.
causaLens is run by scientists and engineers, the majority holding a PhD in a quantitative field. For more information visit www.causaLens.com or contact us on info@causaLens.com. Follow us on LinkedIn and Twitter.