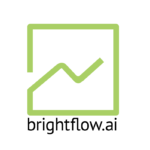 Brightflow AI
About the Company
Even companies that are growing revenue, surpassing sales goals, and expanding rapidly may be at risk of their cash running out. That's where we come in. Brightflow AI gives companies the data they need to make timely and data-driven decisions about cash flow, growth opportunities, inventory, and more. We serve as their finance team to enable their continued growth and allow them to remain focused on delighting their customers.
We've experienced firsthand the pain and difficulty in accessing good financial data–it's this need that drove the creation of Brightflow AI. To date, we've raised capital, built the software, served our initial customer base, and begun iterating on every step of the process, from forecasting to financing. We're proud to create solutions that help level the financial playing field for businesses of all sizes and financial situations.
Our team members have backgrounds that include previous VC-backed startups (as founders, managers, and first engineers), established tech companies, private-equity and venture finance, banking, and running our own software companies. We live and work in a mix of countries and speak numerous languages; yet, we have a common interest in understanding our customers' needs and delivering solutions that solve real problems.
We provide a high degree of ownership and autonomy in an inclusive, supportive culture. We encourage a growth mindset and foster transparent, appreciative feedback, respect, and empathy. Read more about our values at https://bit.ly/brightflow-values, the