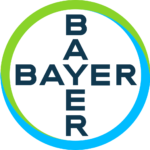 Bayer
About the Company
Bayer operates as a life science company worldwide. It operates through Pharmaceuticals, Consumer Health, Crop Science, and Animal Health segments.
The Pharmaceuticals segment offers prescription products primarily for cardiology and women's health care; specialty therapeutics in the areas of oncology, hematology, and ophthalmology; and diagnostic imaging equipment and contrast agents. The Consumer Health segment markets nonprescription over-the-counter medicines, medical products, cosmetics, and self-care solutions in the dermatology, nutritional supplements, pain and cardiovascular risk prevention, digestive health, allergy, cold and cough, foot care, and sun protection categories.
The Crop Science segment offers chemical and biological crop protection products, improved plant traits, seeds, digital solution, and pest and weed control products, as well as customer service for agriculture. This segment also provides breeding, propagation, and production/processing of seeds, including seed dressing.
The Animal Health segment develops and markets products and solutions for the prevention and treatment of disease in companion and farm animals to veterinarians. Bayer has a collaboration agreement with MD Anderson Cancer Center at the University of Texas to develop cancer treatments; and research collaboration agreements with Haplogen and Kyoto University to identify new drugs candidates for the treatment of pulmonary diseases.
Bayer distributes its products through wholesalers, pharmacies, supermarket and drugstore chains, online and other retailers, and hospitals, as well as directly to farmers. It has strategic research alliance with Kyoto University to jointly identify new drug targets for the treatment of pulmonary diseases, such as idiopathic pulmonary fibrosis.
Friedrich Bayer and Johann Friedrich Weskott founded Bayer on August 1, 1863. It has its headquarters in Leverkusen in Germany.